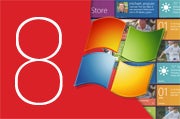 Microsoft showed off many tablet-centric features from its radical redesign of Windows 8 at its BUILD developers' conference on Thursday, but still promised to support desktop and laptop users who own interact with their computers using traditional keyboards and mice. All the swiping and pinching aside, the BUILD conference gave us a peek at some advantages the upcoming operating system might have for laptop users.
Better Performance, Even on Older/Underpowered Laptops
Windows 8 uses even less memory than does Windows 7. Microsoft illustrated how the first Windows 7 release used about 540 MB of memory, while Windows 8 uses slightly more than half that, or 281 MB. This means you can run Windows 8 on an older netbook (with just 1GB of RAM) and see better performance on your powerful laptop.
Multiple Monitor Support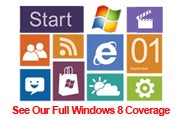 Windows 8's improved hardware support includes more features for those of us who use multiple monitors, such as better taskbar handling. This is a real boon for laptop users, who really benefit from the additional screen real estate.
Improved Security
The new Reset feature, which restores the PC to factory-fresh condition, helps eliminate one of the biggest issues with laptops–data left on a laptop after it's sold or donated.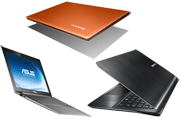 3G/4G Monitoring
Microsoft also showcased a new control panel for monitoring your laptop's (or other device's) 3G or 4G data plan–without using up your minutes if you happen to be roaming.
Device Interactivity and Connectivity
Other forward-thinking features built into the operating system include "tap to share," where you can physically exchange data with other devices using NFC or built-in antennas. You might not be tapping your laptop with smartphones for a while, but, again, it's a sign that Microsoft is thinking about mobile users.
Most of the other changes in Windows 8 apply to all sorts of devices, not just laptops, since it is designed to be the "everywhere operating system". It's very much a "touch first" (in the words of Windows President Stan Sinofsky) operating system, in fact. As tablet-centric as Windows 8 might seem, there are still some appealing features for those of us using a regular old touchpad and keyboard.
Follow Melanie Pinola (@melaniepinola) and Today@PCWorld on Twitter