Back in April, YouTube founders Chad Hurley and Steve Chen swooped in and saved social bookmarking service Delicious from being shuttered by Yahoo, purchasing it for an undisclosed sum. Was it worth saving, and is there room in today's social media landscape for a concept that seems historical rather than futuristic?
Social bookmarking sites allow users to save, "favorite", and organize links to websites they like. These tools take the clunky process of bookmarking a website within a browser a bit further, offering a streamlined interface in the cloud.
While still in use, sites like Delicious and StumbleUpon represent an older, more static way of using the Internet that doesn't take social interaction much into account. I checked out my Delicious account for purposes of this story, and realized that I haven't tagged, shared, or added anything since 2008.
Bookmarking Sites Thrive That Use Social Interaction Well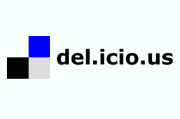 Two bookmarking sites that do social interaction well are Reddit and Slashdot. Both can arguably be called news aggregator sites with a high degree of social interaction, rather than pure social bookmarking sites.
Slashdot, one of the first, has a devoted community that sticks with the site through thick and thin. In the cowboy days of search engine optimization (SEO), a decent mention on Slashdot meant that your website had been "Slashdotted", and a guaranteed bump in traffic in rankings soon followed. The community on Slashdot is tech-heavy and fact-driven.
Reddit may be Slashdot's polar opposite. The community is very strong, but humor is the driving factor, with rage comics and funny comments on pictures and news events the order of the day on the front page at any given time. "Redditors", the nickname for the site's editors, never seem to take themselves very seriously (unless you pop over to one of the Politics section's sub-Reddits, where Reddit's characteristic sense of humor also frequently takes over).
Digg is a cautionary tale of what happens when social interaction on such a site doesn'tt go well. Digg works on the same basic premise as Reddit; if a story is voted up by users, its popularity surges on the site. In Digg, the process of voting a story down to dislike it was called "burying", and this and other factors were what led to the site's decline in popularity. Supergroups of users gamed Digg to vote perfectly good stories down and bad stories up, leading to a decline of quality that drove many users into the waiting arms of Reddit.
Are Twitter and Facebook Killing Social Bookmarking?
Twitter and Facebook allow you to discover infinite sites and little bits of wisdom on the Internet. Companies and individuals can now push out information in a concise, scannable format that is easier to read than an article or even a blog entry.
But betting against social bookmarking sites bets against the same basic principle that makes the Internet popular to most people: The Web is a repository of information through which you can find anything you want. The information that some people seek may start off as cursory, but usually leads to more in-depth explanations.
Social bookmarking sites cut out the need to search out these nuggets of wisdom in a sea of junk because someone looking into your topic has already found them for you. (While this may seem helpful, Eli Parisier warns against the "Filter Bubble" effect if you only follow suggestions from people with the same worldview.)
How the Delicious Revamp Will Be Different
That being said, there's a reason I haven't used Delicious since 2008. I'm not the type of person who saves things to read later, because for me "later" never arrives. I'm much more interested in the real-time offerings of Facebook and Twitter, and if I find a truly remarkable piece of information or product, I go old-school and bookmark it.
Hurley and Chen get that, and they tell The New York Times about revamping Delicious to marry the best of news aggregation and social bookmarking. In addition, they want to foster community by allowing users to interact and share with each other, all the while mapping this behavior so that they can monetize the site with laser-focused advertising. With YouTube, Hurley and Chen learned the value of building community, and they bring that awareness to Delicious.
This makeover of the currently static site hopefully won't turn off its half-million users. You could argue that a Delicious user opted not to be a part of a news aggregator site like Digg, probably based on the simplicity and lack of advertising on Delicious.
The overhaul of Delicious will allow users to organize the links that they are constantly getting from social media, something you can do with current social bookmarking sites, but only by cutting and pasting links. Hurley and Chen's solution sounds much more interactive and easy than the current offerings.
What Should Your Business Do?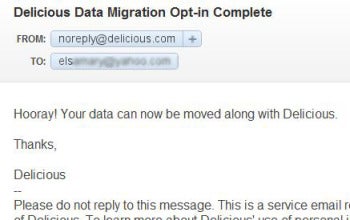 If you have a company blog, you've probably got AddThis or some other plug-in installed that allows users to share data through Facebook, Twitter, and social bookmarking sites. Beyond that, a business doesn't need to do much to take advantage of social bookmarking sites besides offer content worthy enough to be bookmarked.
The re-launch of Delicious will be something to watch for, thanks to the experiences of Hurley and Chen. We won't have to wait too long; the new site should be out before the end of 2011. In the meantime, if you are a Delicious user, make sure you log in and give it permission to transfer your bookmarks to the new site so that you don't lose them when the new site is brought online.
Angela West dreams of opening a Fallout-themed pub featuring wait staff with Pip-Boys. She's written for big insurance companies, small wildlife control businesses, gourmet food chains, and more. Follow her on Twitter at @angelawest.