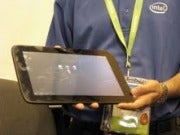 Intel Tuesday showed for the first time working prototypes of tablets using Google's Android OS and the chip maker's upcoming Atom low-power chip, code-named Medfield.
A Medfield reference tablet shown at the conference Tuesday was about 0.3 inches thick and had a 10.1-inch screen. It was displayed during a briefing at the Intel Developer Forum being held in San Francisco this week. The new tablets run on the Android 3.0 operating system, code-named Honeycomb, and use alpha software developed jointly by Google and Intel.
Earlier on Tuesday, Intel and Google announced they would become allies on developing future releases of Android for smartphones and tablets. Intel CEO Paul Otellini showed off a Medfield smartphone running on Android 2.3, code-named Gingerbread.
The Medfield tablet is a reference design for device makers who want to launch tablets, said Steve Smith, vice president at Intel. Smith didn't say when Medfield tablets would be released to the public, but said Intel is currently optimizing the chips for tablets to balance power and performance.
Intel is banking on Medfield tablets to prove it is improving on power consumption with its tablet and smartphone chips.
Intel Speeds Up Processor Releases
Intel has also shifted its chip development process as it tries to rush out new chips for smartphones and tablets, Smith said. The company will be pushing out a new Atom chip code-named Saltwell in the 2011 and 2012 timeframe, and follow up with new chips in 2013 and then 2014, Smith said.
In 2014, the release of Atom chips code-named Airmont, manufactured using the 14-nanometer process, will coincide with the release of new Core and Xeon chips. Currently the Core chips are released ahead of Xeon and Atom chips.
More Tablet Chips
Intel already offers tablet chips code-named Oak Trail and Moorestown, which haven't been successful. Only a few companies such as Cisco and Fujitsu have adopted the chips for business tablets.
Intel already has leadership in performance, and the company's progress in power consumption will become evident through the Medfield tablet, Smith said. The company is consistently trying to make its chips smaller and faster through manufacturing advances as it tries to close the gap with rivals like ARM, whose low-power processors are found in most smartphones and tablets.
"That performance expectation that people had in PCs … is now showing in smartphones and [tablets]," Smith said.
Intel's main business is around PC and server chips, and its low-power Atom processors are considered to be more power-hungry than ARM processors.
[Read: Intel, ARM, Set for Next Stage of Laptop Battle]
The Medfield chip combines an Atom processor with other components such as video accelerators. The company is putting tremendous focus on fine-grained power management for standby, Smith said. The active power usage will be optimized depending on application.