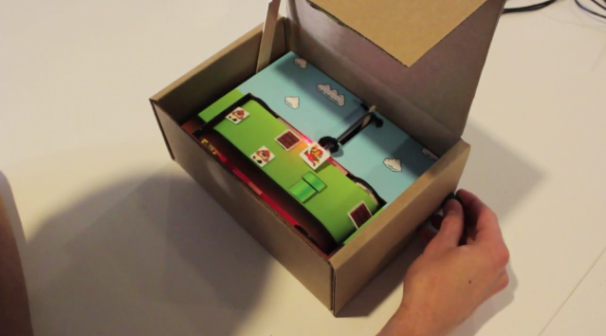 This little side-scrolling game looks like a lot of fun to play, especially if you stumble upon it lying on a table with an inviting "pull me" label. It looks like playing a normal Mario game but in a horrible nightmare featuring a controller so sticky you can't stop running to the right.
The game-in-a-shoebox is made from a Teagueduino board and is effectively an analog version of the classic Mario games. When you goof, the lid drops on you and closes unforgivingly, sort of like it's taunting you to try your skill again.
The company is still in Kickstarter mode as of this writing, and you'll have to pledge $160 to get a Teagueduino. You can probably make one from a regular Arduino, but that means picking up a soldering iron and maybe modifying the code.
For those who don't know, a Teagueduino is basically an Arduino board with an extra bit of hardware. This hardware makes it easy to add and remove components, and the free software makes it easier to code.
Teagueduino has a tutorial for making your own side-scroller (along with information on other basic projects) on its website, though it doesn't seem to offer a lot of concise details. It would be neat if somebody built a huge version, like a giant treadmill where you have to run while avoiding magnetic snares. Then maybe we'll get a little closer to knowing what Mario really felt.
[Teague Labs on Vimeo via Gizmodo]
Like this? You might also enjoy…
Get your GeekTech on: Twitter – Facebook – RSS | Tip us off