Twitter announced its new Web Analytics service at the TechCrunch Disrupt conference on Tuesday. The product is poised to roll out to a wider audience over the next few weeks. Here's a look at what analytics for Twitter are supposed to do, and how they can benefit your company.
According to Twitter's official blog entry, the new tools will offer three primary benefits:
1. Understand how Much Your Content is Being Shared Across Twitter
This point promises much more transparency in showing how much website content is being shared across Twitter. In the graphic they provide (see below), Twitter shows the number of Tweets about, and the number of click-throughs to, the TechCrunch website through Twitter. This level of detail was not previously possible to see. You could see how much traffic was coming to your website through Twitter by using Google Analytics, but not the path that it was taking to get there.
This detail will allow you to see who is sharing your site content and how. This opens up new possibilities, such as launching incentive and affiliate programs, which would have been impossible to implement in the past.
2. See the Amount of Traffic Twitter Sends to Your Site
This is something you can currently do with Google Analytics, so there are no surprises behind the curtain here.
3. Measure the Effectiveness of Your Tweet Button Integration
Again, this is something you can do with most website plug-ins. Shareholic, for one, shows you how many times your content is tweeted or shared using their tools, and similar services have the same options. The interesting thing about this is how much further into detail Twitter's own tools might go.
Driven by BackType Acquisition
Twitter states in their announcement that the new service was driven by their purchase of BackType in July. BackType's website doesn't reveal much about what the new Twitter service could look like, but a quote from their blog entry announcing their acquisition by Twitter is revealing: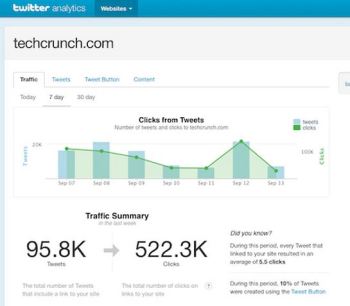 "Our vision at BackType has always been to help our customers understand the value of engagement on Twitter and other social platforms. We also created BackTweets to help publishers understand the reach of their tweets and content, who they are reaching, and how Tweets covert to Web traffic, sales and other KPIs."
BackType's expertise promises a tool with an in-depth level of detail that anyone who needs to measure online success will drool over.
Why You'll Want Twitter Web Analytics
If Twitter's early announcement is any indication, its Web Analytics will be as integral to a website owner as Google Analytics currently is. Up until now, one of the greatest complaints about Twitter is that it isn't trackable enough, beyond showing you the raw numbers coming to your site.
Twitter Web Analytics changes everything. Online marketers will be able to quell clients' fears that the numbers are coming from bot accounts, since they'll be able to show them exactly who is tweeting what and when.
One of the greatest effects of Twitter Web Analytics will be that it will silence detractors of Twitter. Once businesses have greater oversight of exactly how traffic is moving to their websites via Twitter, they will likely invest more resources in using the service. Up until now, Twitter has been putting the egg before the chicken in only offering Twitter Analytics to advertisers, and even then only on how their advertising programs were working. Now that businesses can see what Twitter can do for them, they're likely to get quite a few more advertisers into the pipe.
Angela West dreams of opening a Fallout-themed pub featuring wait staff with Pip-Boys. She's written for big insurance companies, small wildlife control businesses, gourmet food chains, and more. Follow her on Twitter at @angelawest.