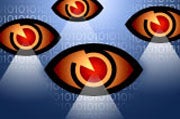 The CIA takes such a dim view of people peeking at computer displays while someone is working that the agency is investing in Oculis Labs, a company that makes software to prevent prying eyes from gleaning any information from computer screens.
The spy agency is investing in Oculis through a nonprofit investment company called In-Q-Tel that was chartered in 1999 by a group of private citizens at the request of the director of the CIA and with the support of Congress. It was launched in response to the agency's desire to increase its access to private sector innovation.
In a statement announcing its partnership in Oculis, In-Q-Tel said it was making a "strategic investment" in the software maker. The amount of that investment wasn't revealed.
According to In-Q-Tel, peering over someone's shoulder to read information on their computer screen is one of the easiest ways to steal sensitive information and one widely available to spies. Some 75 percent of all workers in the United States are mobile and work in environments — public or shared places — where their computer screens could be targeted by prying eyes.
What's more, even if a snoop is caught in the act by a user, they can easily plead innocence since eavesdropping on a neighbor's computer display is so common. Some 89 percent of people admit to reading over someone's shoulder in a public place, according to In-Q-Tel.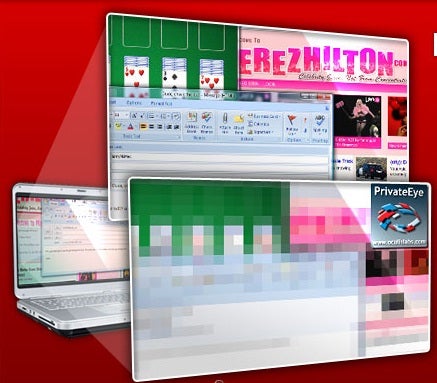 "Oculis Labs is an important addition to our investment portfolio and we are excited about this technology's ability to address a critical need in information security, protecting the last two feet of the network," T.J. Rylander, a partner on In-Q-Tel's investments team, said in a statement. "Oculis Labs' technologies offer a vital new capability in securing computer systems against a wide range of insider and outsider threats."
Oculis makes both a consumer and military version of software products. The consumer offering, called PrivateEye ($1.99), uses a webcam and facial recognition software to blur your computer screen when you walk away from it or turn your head to talk to someone behind you. It will also detect someone approaching you from behind as far as 10 feet away and obscure your display as they get closer.
The version of the software made for government and military users is called Chameleon. It goes to much more complicated lengths to thwart eavesdroppers. Using a piece of hardware called a gaze tracker, the software allows you to read your screen, but anyone else trying to read it will just see gibberish or false information. In addition to frustrating old-fashioned eyeball threats, Chameleon will also block TEMPEST attacks, which attempt to read what's on a monitor by capturing its electromagnetic emissions.
"In-Q-Tel understands and supports the mission of innovative technology companies like Oculis Labs in developing products for both commercial and government markets," stated Oculis Labs' chief executive, Bill Anderson. "Our relationship with IQT will drive further market success as a result of their support, relationships and strategic advice."