Acer and Asustek Computer next year will deliver Windows PCs with Intel's Thunderbolt interconnect, which for a time was available exclusively on Apple's Macintosh computers, Intel said on Wednesday.
Thunderbolt, introduced in February, is a high-speed interconnect technology developed by Intel and Apple that can transfer data between host computers and external devices at up to 10 gigabits per second. The technology was initially licensed exclusively to Apple, but Intel said it would make it available to PC makers at a later date.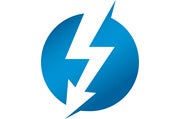 A Windows PC with Thunderbolt technology was demonstrated onstage during a keynote address by Mooly Eden, Intel's general manager of the PC client group, at the Intel Developer Forum being held in San Francisco. Solid-state drives from Intel were connected to the PC and transferred four uncompressed videos at 700 megabytes per second.
Thunderbolt has been viewed as an alternative to USB 3.0, but as the technology was exclusively on Macs, only a few peripherals such as storage drives supported the interconnect. The adoption of Thunderbolt by device makers could grow when Acer and Asus adopt the technology in PCs. The world's top PC maker, Hewlett-Packard, in the past said it was looking at Thunderbolt, but sticking to USB 3.0 because of the wide range of peripherals available.
Thunderbolt currently supports the PCI Express and DisplayPort protocols, which helps reduce the number of connectors needed to attach peripherals to computers. Intel plans to integrate Thunderbolt support in the chipset for its upcoming Ivy Bridge processors, which will reach laptops and desktops early next year.
Acer and Asus are partnering with Intel on ultrabooks, which are being hawked by Intel as a new category of thin and light PCs with tablet-like features. Intel was not immediately available for comment on whether Ivy Bridge ultrabooks, due early next year, would include Thunderbolt.