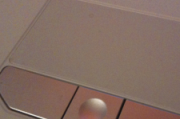 If you've used a Windows 7 laptop with a "multitouch" touchpad, you've likely been a little disappointed to see that it offers only a few gestures: pinch to zoom, twist to rotate, two-finger scrolling, maybe three-finger swiping. The functionality is handy, but it's a long way from having a touchpad that behaves like a little multitouch touchscreen.
Synaptics and Microsoft have been working together to solve the problems that prevent laptop touchpads from realizing their potential. Windows 8 will support a new software layer that allows touchpads that meet certain criteria to operate better than ever. You'll be able to pinch and rotate multiple objects at the same time, utilize more touch points, and manipulate the Start Screen interface as though your touchpad were a tiny touchscreen proxy, not a mouse substitute.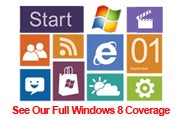 Unfortunately, the software layer requires new hardware. The latest image-based sensors in high-quality touchpads are good enough, but they're almost always connected to the PC through an internal PS/2 connection. This arrangement makes for low-power operation and a low cost, but the bandwidth is too low for truly rich multitouch. That's why current laptop touchpads basically work like mice, with a few gestures thrown on top–just don't try to perform two gestures at once.
Synaptics has come up with a new standard, and made it open for any other touchpad vendor to adopt. In this standard, an image-based touchpad sensor is connected to the system through the PS/2 port, but also through the I2C ("eye-squared-see") bus, which provides much higher bandwidth. This design allows the touchpad to deliver enough data to work with multitouch the same way a touchscreen does, with multiple independent actions and gestures all happening at the same time. Synaptics calls the standard InterTouch. With an InterTouch connection and driver, your touchpad will have a far bigger role in Windows 8–pinch, drag, flick, swipe.
The company tells us that some laptop manufacturers are now working on implementing the standard, and we should see some models implement the necessary hardware well before Windows 8 ships on PCs. Buy a Windows 7 laptop with the right hardware, and you'll enjoy a big touchpad upgrade when you upgrade the OS to Windows 8 down the line.
We don't have any word on actual laptop models that will ship with InterTouch just yet, unfortunately. It will probably be some months before the first systems hit the market. Let's hope that, as we approach Windows 8's release, we'll see a greater number of laptops implementing this standard for users who don't want touchscreens.