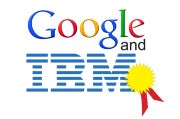 Google has acquired over 1,000 patents from IBM, as part of its strategy to strengthen its patent portfolio to counter litigation, according to records of the United States Patent and Trademark Office.
Jim Prosser, a Google spokesman, confirmed the transfer, reported by a blog SEO by the Sea, but did not provide details such as the price Google may have paid for the patents.
Google also acquired another over 1,000 patents from IBM in July. It transferred recently some patents to smartphone maker HTC to help it pursue patent litigation against Apple.
Google has been interested in acquiring patents for some time now, which led to its failed bid in June for the patents of Nortel Networks, and its proposed acquisition of Motorola Mobility for about US$12.5 billion.
The tech world has recently seen an explosion in patent litigation, often involving low-quality software patents, which threatens to stifle innovation, Kent Walker, Google's senior vice president and general counsel, said in a blog post in April.
"But as things stand today, one of a company's best defenses against this kind of litigation is (ironically) to have a formidable patent portfolio, as this helps maintain your freedom to develop new products and services," he added.
The acquisition of Motorola Mobility's patents was a key consideration for Google to start talking to the company in early July. But Motorola told Google that it could be a problem for Motorola Mobility to continue as a stand-alone entity if it sold a large portion of its patent portfolio, according to a filing by Motorola to the U.S. Securities and Exchange Commission on Tuesday.
Like the patents from the previous patent transaction between Google and IBM, the range of inventions covered in the new set of patents is pretty broad, including desktop and server hardware, computer security, database processes, circuit design, parallel database systems and architecture, user authentication, creditcard/smartcard testing, and much more, said SEO by the Sea. The vast majority of patents appear to have been originally assigned to IBM, but there were a few that started out at Cognos, which IBM acquired in 2007, and which was merged into IBM's business intelligence offerings, it added.
The USPTO recording date for the transaction is Sept. 13, while the execution date on the document is August 17. IBM could not be immediately reached for comment.
John Ribeiro covers outsourcing and general technology breaking news from India for The IDG News Service. Follow John on Twitter at @Johnribeiro. John's e-mail address is john_ribeiro@idg.com