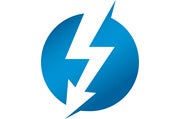 Intel's Thunderbolt high-speed interconnect technology, which shuffles data between PCs and devices like displays and external storage, could be years away from getting optical technology, an Intel executive said this week.
Thunderbolt, originally introduced in February on Apple's Macintosh computers, was pitched as being optical technology but currently uses copper wires. Fiber optics are expensive to implement, and copper wires are working much better than expected, said Dadi Perlmutter, executive vice president and general manager of the Intel Architecture Group, in an interview at the Intel Developer Forum being held in San Francisco.
Thunderbolt, originally known as Light Peak, was announced in 2009 and was designed to use fiber optics to transmit data among systems and devices. However Intel and Apple released Thunderbolt based on copper, with data transfer rates between host devices and external devices of up to 10Gbps (gigabits per second). The trend of using copper wires could continue, and it could be many years before fiber optics are used in Thunderbolt.
"It's going to be way out," Perlmutter said. "At the end of the day it's all about how much speed people need versus how much they would be willing to pay."
The cost of implementing fiber optics is significantly higher than copper, and copper can transfer data at adequate speeds at this stage, Perlmutter said. There is still more room for data transfers to jump on copper.
"Copper will continue to improve, which happens. There have been many technologies that had been predicted dead 20 years ago that are still making good progress. We'll see," Perlmutter said.
Fiber optics provide faster data transfers over longer distances compared to copper, Intel officials have said. Intel researchers are also developing technology based on silicon photonics that will be able to move data up to five faster than current Thunderbolt implementations.
Thunderbolt was initially licensed exclusively to Apple, but Intel at IDF said that Acer and Asus would bring the interconnect to Windows PCs next year. The technology will be used in ultrabooks, which Intel is promoting as a new category of thin-and-light PCs with tablet-like features. At IDF, a Windows PC with Thunderbolt connected to a solid-state drive was shown transferring four uncompressed videos at 700 megabytes per second.
Thunderbolt is viewed as an alternative to USB 3.0, which can transfer data at 5Gbps. However, Intel insists that the interconnects are complementary, and the chip maker will integrate Thunderbolt and USB 3.0 support in chipsets for the upcoming Ivy Bridge processors, which will reach laptops and desktops early next year.
Only a few Thunderbolt peripherals are available today because of the exclusivity of the technology to Apple. But with Acer and Asus adopting Thunderbolt for PCs, a larger number of peripheral makers could adopt the interconnect. Thunderbolt currently supports the PCI Express and DisplayPort protocols, which helps reduce the number of connectors needed to attach peripherals to computers.