MOG has launched a free, on-demand music streaming service, putting it in direct competition with Spotify. The new ad-supported account option allows instant streaming of MOG's 11 million track catalog, and the ads will not start to show up for the first 60 days.
What's not clear is just how much music can be streamed for free. In its statement announcing the free version, MOG says free users will have "a virtual 'gas tank' full of music visibly integrated into the service. The refillable tank, called FreePlay, is built upon sophisticated game mechanics that enable users to earn free music in perpetuity, simply by listening, sharing with friends and exploring MOG."
In other words, MOG's free users will constantly be encouraged to click on links and participate in activities like sharing playlists that will earn them more music listening time in return.
"Social influence is a key component," according to David Hyman, MOG's founder and chief executive. "Tastemakers and influencers can easily get a lifetime of free on-demand music. These models have worked extremely well for other online businesses, and it's exciting to apply them to the music sector for the first time."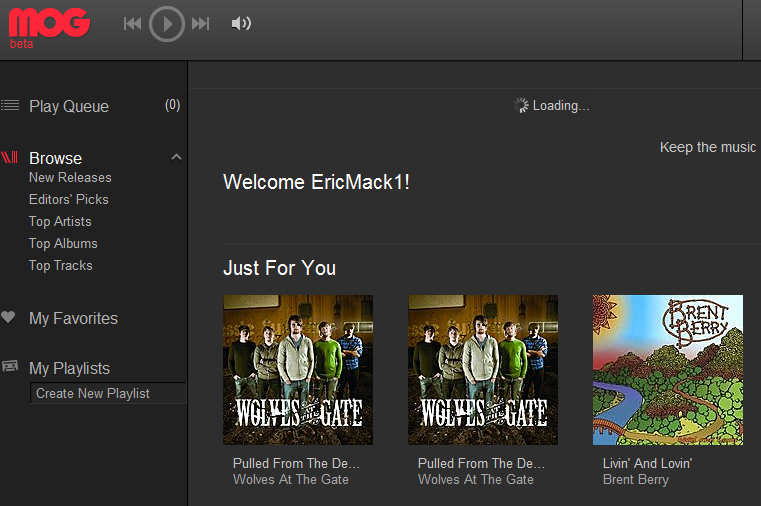 Hyman says in the beginning, most of the ways to earn free music credit will involve exploring the MOG site itself, but will soon expand to interactions with advertisers, like watching a movie trailer.
MOG has the advantage of having perhaps the slickest client of its competitors, including Rdio and Spotify. Its HTML5 Web application is officially out of beta and includes one-click login through Facebook Connect that can get new users listening to music within seconds, complete with recommendations based on data culled from Facebook friends.
Spotify became the first ad-supported free streaming service to hit the U.S. in July. Spotify's free users will not begin hearing ads in the stream until next year, and when they do, it's expected to be more like a radio or Pandora model without any sort of music "gas tank" or "credits." However, the European version of Spotify has instituted limits on the amount of times a track can be played on a free account.
Like Spotify, Rdio and other competitors, MOG will also continue to offer paid accounts with an ad-free version available for $4.99 a month and mobile and offline play available for $9.99.