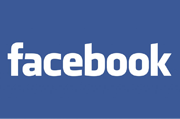 Facebook recently introduced a new subscribe button for personal profiles that lets you adjust how much and what types of activity you see from friends such as photo posts and game and status updates. The new button also lets you follow the public updates of people on Facebook who are not your friends including artists, journalists and other public figures. You can also opt-in to share your public updates including photos, status updates, and links with people you don't know but who might be interested in you.
If you're concerned about strangers subscribing to your profile against your will, you can rest easy. A Facebook official said the social network will not force you to allow people to subscribe to your public updates. This is an entirely opt-in part of the new subscribe function.
Facebook has started to roll out the subscribe button to users, so you should see them on your friends' profiles soon. You can also activate the public subscriber option right now. Here's how to get started with the new subscribe button.
What is a Facebook subscriber?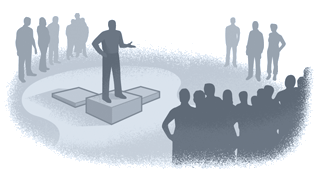 On Facebook, there are two different classes of subscribers: your friends and everybody else. Your friends are already subscribed to get your updates as they always have, and you, in turn, are subscribed to their updates.
If you choose to allow public subscribers, then those people will only see the content you share that is marked public. Let's say Jim subscribes to the profile of Facebook chief executive Mark Zuckerberg. Jim will then see all the public updates that Zuckerberg shares such as status updates, game activity, photos and videos, and life events such as marital and employment status. Zuckerberg, on the other hand, will never see Jim's updates unless Jim has allowed public subscribers to follow his profile and Zuckerberg chooses to subscribe to Jim. This is basically the follow-followers model that Twitter uses.
Finding subscriptions
Facebook will start showing suggestions of people you can subscribe to in a section on the right-hand side of your Facebook home page. This will be similar to the "People You May Know" section located in the same place. You may also choose to subscribe to people by viewing updates that come through your News Feed. This could happen, for example, if one of your friends comments on a public status update from someone you don't know.
Adjusting content flow
Whether you end up subscribing to someone's public content or are subscribed as a friend, you can use the same tools to adjust what kind of content you see from each person. This is only an optional feature, and if you do nothing Facebook's algorithms will decide as usual what should show up in your News Feed and what shouldn't.
But chances are there's someone in your Facebook life you would prefer to see less of in your News Feed but don't want to eliminate entirely. You may have a friend who is a FarmVille addict and you can't stand seeing their gaming updates. Or perhaps you know someone who has posted one inane status updates too many. For times like these, the subscriber button will come in handy.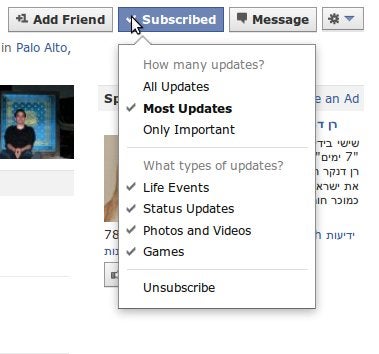 Just visit that person's profile and click on the "Subscribed" button at the top right of their profile. This will show you a dropdown menu of options to control the content you see from that individual. You can tell Facebook to show all of that person's updates, most of their updates or only the important ones. If that doesn't give you enough control, you can also control four specific update types that you want to see including gaming activity, status updates, life events, and photos and videos. Just click the check mark next to each update type to remove it from your News Feed.
The subscribe button is still rolling out so it may be a few days before you can adjust content settings this way.
Allowing subscribers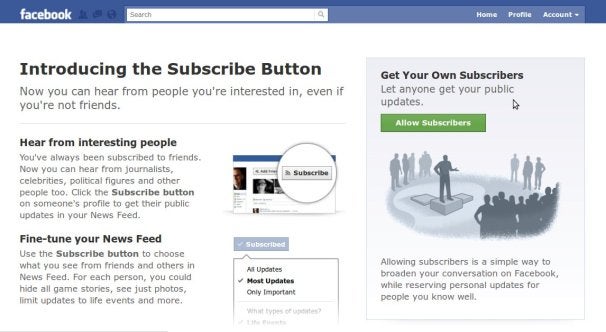 If you would like to allow subscribers to view your public updates, the easiest way to activate this feature is to visit the Facebook Subscriptions page and click "Allow Subscribers." After you allow subscribers, a dialog window will appear where you can set two preferences related to public subscriptions: commenting rules and new subscriber notifications.
By default, only your friends and friends of friends can comment on your public updates. But you can choose to allow anyone to comment on your public updates by selecting "On" from the dropdown menu in the Comments section of the dialog.
For new subscriber notifications, you can choose to be alerted when anyone subscribes to your updates, only when friends of friends subscribe or you can turn off new subscriber notifications entirely. By default, notifications are set to friends of friends.
Subscriber limits
Facebook will allow an unlimited number of people to subscribe to your public updates, but you can only subscribe to a maximum of 5,000 people.
Setting public updates

On the Web, you can set public updates in the content sharing entry box at the top of your Facebook home page by clicking on the cog next to the Post button. Facebook's mobile apps also have options for setting status updates to public or just friends.
But there are a few things to note about going public. First, once you set an update to Public (meaning anyone on Facebook could potentially see it) all your updates will be set to Public until you change this setting back to Friends or Custom. Also, if you are using Facebook's custom function for your updates, you will lose your settings entirely when you decide to share a public update. Meaning that every time you share a public update, you will have to reenter your custom settings when you switch back.
Blocking
If you want to block a subscriber from your updates because of harassing comments or other unwanted behavior, click on "Account" on the top right of your profile and select "Privacy Settings." On the next page, scroll down to the bottom and click on the "Manage Blocking" link in the "Blocked People and Apps" section. From there you can enter a user's name or e-mail address to block them from viewing your updates.
Facebook has been hard at work adding new features to its services leading up to the social network's F8 developer conference next Thursday. Facebook recently revamped its friends list feature that is supposed to make it easier for you to group friends into different categories similar to the Google+ Circles feature.
Connect with Ian Paul (@ianpaul ) and Today@PCWorld on Twitter for the latest tech news and analysis.