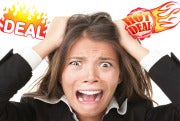 The explosive proliferation of daily deal outfits like Groupon, LivingSocial, Woot and their countless copycat sites hasn't led to deal fatigue, according to researchers from Rice and Cornell universities.
The daily deal industry has hit a bump in the road lately, leading some to speculate that fatigue will burst its bubble. But there's plenty of opportunity for the industry in the coming months, the researchers said in a survey-based study titled "Daily Deal Fatigue or Unabated Enthusiasm?"
"We find no evidence of daily deal fatigue," wrote the researchers, Utpal M. Dholokia of Rice and Sheryl E. Kimes of Cornell. "Instead, the heaviest daily deal users (those who have purchased 11 or more deals) are the most enthusiastic about them."
Those habitual users "indicate the greatest interest in checking their e-mail for deal offers every day, have little trouble in using the deals before they expire, believe that daily deals help them save money on things they would have purchased anyway, and say they have integrated these deals into their usual shopping behavior," they added.
What's more, all of the daily deal users in the study told the researchers that they intended to purchase a deal within the next month.
Of those in the survey sample who weren't daily deal shoppers, it wasn't because of a lack of interest, the researcher found. It was primarily due to awareness and access issues.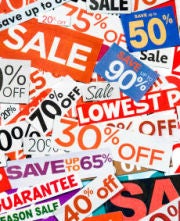 A bright spot for daily deal companies is the number of people who have never caught the fever. While the survey sample had 973 people in it — 655 who had purchased at least one daily deal and 318 who had never done a deal — the actual number of people contacted before they could find 655 daily deal users was 3,933. That means that only 16.7 percent of the U.S. population has done a deal, the researchers reasoned. "We see significant further opportunity for trial and use of daily deals by current non-users," Dholakia said in a statement.
A surprising finding by the researchers was that the shopping activity of daily deal users is motivated by more than just bargain hunting.
While many bargain hunters are also penny pinchers, that's not the case with daily dealers, the researchers found. Daily dealers are not very careful with their personal finances and do not think about spending issues all the time, they said.
Not only are daily dealers interested in trying new products and services, the researchers discovered, but they're attracted to a deal because it is a deal, and are likely to be less sensitive to the actual terms of the offer made by the merchant.
That's good news for the industry, contended Dholakia."The study brings into question one of the basic beliefs held by most in the daily deal industry," he observed.
"There is a theory that consumers must be offered 'deep' discounts (50 percent or more) to be interested in daily deals," he explained. "Our research shows that a significant number of consumers will continue to buy the deals even if the discounts are slightly smaller."
"This is a significant finding because my previous research showed that businesses find huge discounts to be unsustainable," he added. "The industry seems to be operating under the opinion that deep discounts are the only way to be successful, but that's not the case."
Follow freelance technology writer John P. Mello Jr. and Today@PCWorld on Twitter.