There are numerous Web content management systems available out there to serve the needs of companies large and small, including numerous free and open source options. One that's figured prominently in the news this week, however, is Joomla, which is making headlines for the fact that it recently hit 25 million downloads.

Some 2.7 percent of the Web now runs on Joomla, according to research firm W3Techs, which translates into a market share of roughly 10 percent. WordPress is currently the market leader, running almost 15 percent of all websites, while Drupal comes in third with 1.7 percent of the Web. Though Joomla is the relative newcomer among these three leaders, it boasts Citibank, eBay, General Electric, Harvard University, Ikea, McDonald's and Sony among its enterprise users.
Does your company run a website? If so, here are a few reasons you may want to check out Joomla for yourself.
1. Powerful Core Features
A three-tiered content management system and WYSIWYG editor along with tools for managing syndication, templates, menus, integrated help and more all combine to make Joomla a robust platform for creating and building a variety of websites and Web-enabled applications. Recently added in the current version 1.7 are the ability to perform one-click updates and multilanguage improvements.
2. More Than 8,000 Extensions
Thanks to the ongoing efforts of a vital developer community, there are currently more than 8,000 free and paid extensions available to help you customize Joomla. A birthdays module, for example, shows a list of upcoming birthdays for a website's members; the Acajoom module, meanwhile, offers a powerful newsletter component.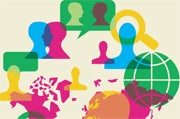 3. Frequent Updates, Long-Term Support
Whereas Joomla 1.6 took three years to develop, the project introduced a six-month release cycle earlier this year, allowing new features to be added more regularly. Every third release, however, is considered a Long Term Support release (LTS), offering 18 months of security updates and bug fixes.
4. It's Free and Easy
Joomla is available for download at no cost, and it's designed to be easy to use for novices and experts alike. There's even an online guide available for absolute beginners.
5. It's Open Source
Since its inception in 2005, Joomla has been 100 percent community owned and operated. The software is free, open, and available to anyone under the GPL license. For business users, that brings a number of considerable benefits, as I've noted before.
Brian Proffitt, my colleague at Computerworld, recently compared Joomla with WordPress and Drupal and concluded that WordPress is best for beginners, Drupal is best for the most complex websites and Joomla is a good middle-of-the-road option that's powerful but still easy to use.
You can see for yourself by taking Joomla for a free test drive via an online demo or the Joomla JumpBox, which lets you run the software locally with a pre-built and pre-configured virtual application on Windows, Mac or Linux.