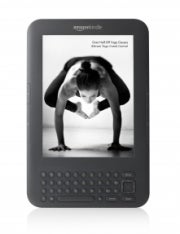 You're sitting on a park bench, Kindle by your side. Suddenly an ad flashes on the screen: Skydiving Lessons with Brazilian Wax–75 Percent Off! Naturally, you buy the deal on the spot, bargain hunter than you are.
Amazon Thursday announced that the "Special Offers" versions of its Kindle e-reader will begin showing discounted deals from local merchants–including restaurants, spas, wineries, and the like–in addition to the usual stream of national ads targeted at a much wider audience.
The AmazonLocal service for Kindle is debuting in New York City, and will expand later this year to additional U.S. cities, including Chicago, Los Angeles, San Francisco, Miami, and Seattle. A software patch that enables the Groupon-like service will be delivered to Kindle users "in the coming weeks," Amazon announced.
Kindle with Special Offers is a discounted version of Amazon's popular e-reader that displays ads when the device is idle. The Wi-Fi model costs $114 (a $25 discount off the ad-free version), and the 3G edition is $139 ($50 off).
"We think customers are going to be thrilled with this new, convenient way to take advantage of AmazonLocal deals–you can view, purchase, and redeem the deals using only your Kindle–no computer, no printer, no hassle," said Amazon Kindle director Jay Marine in a statement.
Indeed, AmazonLocal strives for paperless simplicity.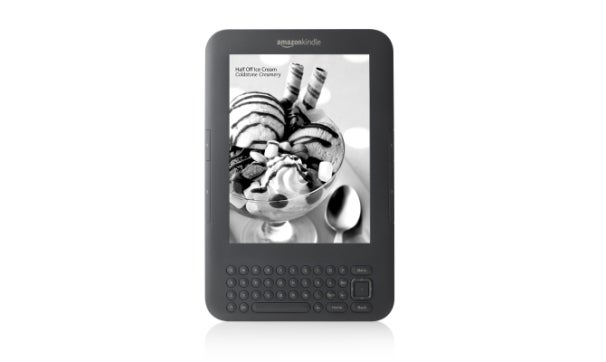 You buy deals directly from your Kindle, without having to reenter credit card or account information. Once you've bagged a bargain, a voucher appears on the Kindle home screen. You show the voucher (on your Kindle) to the merchant, or print a copy at www.local.amazon.com/purchases and bring it along.
If you're curious, here's a short list of some AmazonLocal deals available to New Yorkers:
$7 for a one-hour bike rental in Central Park ($15 value)
$5 for $10 at Dangerfield's Comedy club
$59 for one month unlimited yoga classes at Bikram Yoga Grand Central ($180 value)
$5 for $10 worth of ice cream and ice cream cakes at Coldstone Creamery
$45 for lunch at City Winery ($98 value)
Contact Jeff Bertolucci via Twitter (@jbertolucci) or at jbertolucci.blogspot.com.