Let the drooling commence: Apple has a hot new product — and it has arrived before Apple's Worldwide Developers Conference starts on June 6.
It's not the iPhone 4S/5; it's not iCloud; and it's not OS X 10.7 Lion. It's Thinner. Lighter. Faster. What is it, you ask? It's an agenda! On an app!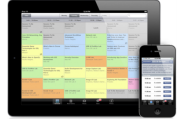 Yessir, Apple has released the official conference app for WWDC on the iTunes App Store, available for iPhones, iPod Touches, and iPads running iOS 4.2 or later. The free WWDC app — which is quite possibly Apple's "funnest" release ever — contains a full schedule and the location of all sessions, labs, and official after-hours excitement (sadly not the unofficial after-hours parties, 'cause I hear developers really tie one on). You can build your own customized schedule and book face-time with Apple engineers in the same way you'd schedule a Genius appointment at an Apple Store. There's also a news feed and a bundle of official photographs, like Steve Jobs smiling, Steve Jobs standing, and Steve Jobs talking.
So what's holding you back from embracing the app-based future of conference scheduling? Nothing . . . except the fact that you probably weren't invited to the event itself. But don't let that stop you from a vicarious exploration of the WWDC. Consider it an add-on to the fun you'll already be having pounding the refresh button on live blogs, watching videos stream from all corners of the Internet, absorbing the exuberant, unbiased reporting via Twitter, all from the comfort of your Windows PC — er, your MacBook.