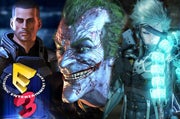 A few juicy Microsoft-centric Electronic Entertainment Expo tidbits are leaking the day before business starts. Read on to catch up on all the rumors.
Mass Effect 3 May Have Kinect Support
An early image of the box art for the Xbox 360 edition of Mass Effect 3 appeared briefly on the EA Store yesterday, and it featured a prominent purple banner proclaiming it's "Better With Kinect Support". The image was quickly removed from EA's online store, but not before eagle-eyed commenters on the NeoGAF forums saved a copy for the world to see. EA has not released any official comment; if true, the inclusion of motion control features in Mass Effect 3 may frustrate diehard PC players.
Microsoft's Rumored Xbox TV Service: Here at Last?
Microsoft is rumored to be making the last-minute arrangements necessary to show off an Xbox Live-based subscription TV service, says Winrumors. This "Xbox LIVE Diamond" service would essentially use your Xbox as a gateway into Microsoft's own cable TV network–for a monthly fee.
New Cross-Platform Series Coming From Insomniac Games
Destructoid reports that development studio Insomniac Games is announcing an original cross-platform title tomorrow, during Electronic Arts' press conference. Insomniac Games is best known for Spyro, Ratchet and Clank, and Resistance: Fall of Man–all Sony PlayStation exclusives. No word yet on the nature of their new title, or intended audience, but since the EA press conference is during Monday afternoon, you won't have to wait long.
New Kinect Games Are Mostly Sequels Or Family-Friendly Titles

Twitter has been buzzing this weekend with rumors about what kind of new Kinect games Microsoft will reveal during their press conference on Monday, and a rash of suspiciously well-timed domain registrations for sites like dancecentral2.org and fablethejourney.org suggest the Kinect games of 2012 will include sequels to Dance Central, Fable and Kinect Sports. What's more, registered domains like kinectdisneyland.com and kinectmagickingdom.com suggest we'll see a bevy of family-friendly Disney games announced this week. No hint of any Kinect announcements for the hardcore gamer, but we'll keep an eye out this week.
Kinect Star Wars Game Footage Revealed
Remember the first time you saw a Nintendo Wii and thought "someone needs to make a lightsaber game for that controller"? Well, it looks like Microsoft's Kinect will be getting the Jedi treatment, but it doesn't look good. Entertainment Weekly dropped an exclusive trailer of Kinect Star Wars, and it looked okay, but Kotaku dug up this live demo footage from Bamar en Live (French), which is not so impressive. See for yourself:
Patrick Miller and Alex Wawro will be covering E3 this week. Check out the PCWorld Game On blog to stay updated on news straight from the show floor.