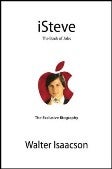 Steve Jobs' official biography won't be available for another nine months, but it's already a big hit in pre-orders on Amazon.com.
"iSteve: The Book of Jobs" is the 13th most popular book on Amazon at the time of this writing, despite its release date of March 6, 2012. Advance orders are being accepted for hardcover editions of the book (priced at $16.50) and on Kindle for $15. Apple is taking pre-orders through iBooks for $15.
The book is written by Walter Isaacson and draws on extensive interviews with Jobs and his family members, colleagues, and competitors. Isaacson is the president and chief executive of the Aspen Institute, and was previously the chairman and CEO of CNN and the managing editor of TIME. His previous biography subjects include Benjamin Franklin, Albert Einstein, and Henry Kissinger.
As Newser's Michael Wolff noted when the Jobs biography was announced in April, Isaacson's biographies of Einstein and Franklin were respectful and decorative, but Isaacson "deftly slices Henry up" in the Kissinger biography. So it's possible that iSteve won't be totally rosy about the brains behind Apple.
Either way, iSteve should be an interesting read. Jobs is famously guarded about his personal life, and this is the first time he's given access to a writer for an official biography. Wiley & Sons published an unauthorized biography, called iCon, in 2005, and Apple retaliated by pulling all the publisher's other books from Apple Store shelves.
Follow Jared on Facebook and Twitter as well as Today @ PCWorld for even more tech news and commentary.