Mozilla's Firefox 5 browser may have only just entered the beta phase, but thanks to the project's new, faster development schedule, the next version is already alive and kicking.
Now available for testing in what Mozilla calls the Aurora channel for pre-beta versions, Firefox 6 gives both users and Web developers "more control over their browsing and development environments while improving overall performance," according to a recent post on the Mozilla blog.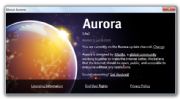 Though the final version of Firefox 6 isn't due until August or so, this Aurora release can now be downloaded for Linux, Mac and Windows from the "Future of Firefox" page on the Mozilla Project's Web site.
Such early versions aren't "for the faint of heart," as Mozilla says, but they do provide a nice preview of what's to come. Here are a few intriguing features we can expect to see in Firefox 6.
1. More Control Over Permissions
Firefox 6's new Data Management Window is a site-based permissions interface that lets users control how much access particular Web sites have to their browsing data, including cookies, passwords and location information. The feature is still an experimental one, but users can begin testing it out by typing "about:permissions" in Firefox's Awesome Bar, as it calls the URL Bar. More information about the new feature can also be found on a blog post from Mozilla's Sid Stamm, who works on privacy and security.
2. Faster Startup Times
"Power users" of Firefox's Panorama feature can now load saved tab groups only while using Panorama thanks to Firefox 6's Panorama Groups on Demand feature. The result is improved browser startup time and a better overall experience, Mozilla says.
3. Faster Performance on Linux
Speaking of speeds, Firefox 6 is also the first version in which the browser's newly achieved performance boost for Linux users is expected to be felt, as I noted last month.
4. Better Plug-in Management
The new browser version quickly verifies the compatibility of installed plug-ins directly from the Add-Ons Manager thanks to a Plug-in Check feature.
5. HTML5 and More
In addition to the myriad improvements for users, the Aurora version of Firefox 6 also sports a number of new features for developers, including increased support for HTML5, DOM level 3, server-sent events, networking technologies and other tools designed to make it easier for developers to build advanced Web apps. A new Scratchpad tool lets developers quickly build and test JavaScript snippets in the browser, while the Web Console feature has been bolstered with new capabilities. A full list of the developer-oriented features in Gecko 6.0-based Firefox 6 can be found on a dedicated page on the Mozilla site.
Bottom line? Firefox 4 may have taken the world by storm, but things are already looking promising for Firefox 6. As a Linux user, I can't wait for it to arrive.