Sprint today announced the pricing and availability for two of HTC's most anticipated products on Sprint's 4G network: a glasses-free 3D smartphone, the HTC EVO 3D, and HTC's 7-inch tablet, the HTC EVO View 4G.
Both devices launch on June 24 and their pricing is based on a new two-year service agreement or eligible upgrade. The HTC EVO 3D will cost $199.99 and the HTC EVO View 4G is priced at $399.99, plus a variable monthly data package. You can drop by a Sprint store and order either product now with a $50 Sprint gift card purchase.
The HTC EVO 3D
The HTC EVO 3D packs some great specs, including:
Android 2.3 Gingerbread
4.3-inch QHD 960-by-540-pixel screen
1.2GHz Qualcomm Snapdragon dual-core processor
Two 5-megapixel cameras to capture 3D imagery
1080p 30-frames-per-second HD video capture and stereoscopic-3D video capture and playback
Dimensions: 5-by-3-by-0.47 inches
6 ounces weight
Sounds like a great device, but I'm not entirely convinced that smartphones need to have 3D capabilities or that consumers will stick with the 3D "fad" long enough to make the HTC EVO 3D a viable purchase. 3D on a phone, to me, seems like it'll only heighten your chances of stepping into traffic while texting and walking.
HTC EVO View 4G
The HTC EVO View 4G was released in Europe as the HTC Flyer and received mostly positive reviews. The tablet has a lot going for it: not only is the first with 4G data capabilities, but it's also one of the cheapest out there. Plus HTC is reintroducing the stylus with the HTC Scribe digital pen. The HTC Scribe retails for $79.99 but will be free for a limited time for early adopters.
Here are some other specs:
Android 2.3 Gingerbread with HTC Sense — and Android 3.0 Honeycomb when available
1.5 GHz processor
3G/4G data connectivity and Wi-Fi
15 ounces weight
7-inch 1024 x 600 touchscreen
Dimensions: 7.69 by 4.42 by 0.52 inches
Rear-facing 5-megapixel camera
MicroSD Card Slot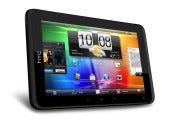 This tablet is thicker, heavier and smaller than the iPad, but may hit its niche with its relatively low price, 4G connectivity, and the innovative stylus (which, by the way, should be included with every tablet and free, not an additional purchase).
So who's heading over to Sprint to pre-order these devices? Does anybody care about 3D on a smartphone or a tablet that isn't the iPad?