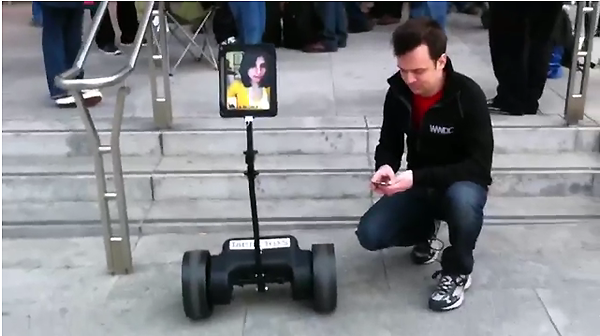 For the lucky ones who attended Apple's sold out World Wide Developers Conference (WWDC), they may have noticed a pretty cool robot among them while they were waiting in line (what Apple event wouldn't have a line?). Thanks to the help of a telepresence robot featuring an iPad, one attendee's wait was made a virtually easier, literally.
Taptic Toys' Romina Espinosa was testing out the company's telepresence robot prototype at WWDC. Why the Apple event? The robot, which looks similar to a Segway or a scooter, uses an iPad 2 to allow the person at home to see what's happening on the bot's end. Presumably, the iPad is running FaceTime to allow for a two-way video conversation easily.
Sadly, Taptic Toys was only testing the robot, so you can't plan all those potential lie-ins just yet–in fact, they aren't even 100% sure if they'll reproduce it. At present, the nameless robot appears to be limited to WiFi-only spots, but maybe with time and improved iOS technology, it could be developed to work almost anywhere. And surely everybody secretly wants a telepresence robot for those bad or rainy days.
Check out the video below to see the robot in action at WWDC:
[Taptic Toys via TUAW]
Like this? You might also enjoy…
Get your GeekTech on: Twitter – Facebook – RSS | Tip us off