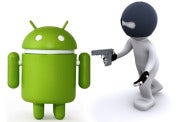 Apple unveiled a host of new features in iOS 5 due out this fall including revamped notifications, over-the-air updates, and cloud data storage. You might even call these new features magical or revolutionary, unless you're an Android user, then you'd call them "stuff I've been using for years." The latest additions to Apple's mobile OS are probably a welcome relief for iPhone and iPad fans, but it's hard to call iOS "the world's most advanced mobile operating system" when Apple is playing catch up to Android. Here's a look at the five biggest Android rip-offs in iOS 5.
Notification Center
In iOS 5, iPhone and iPad users no longer have to worry about annoying pop-ups from other apps intruding on their gaming or reading sessions. Instead, a notification will slide down from the top of the screen and disappear as quickly as it came. You can also view all your notifications in one place called Notification Center available from the lock screen or by just swiping downward from the top of the device screen. It's a great way to handle notifications, and Android users have loved it since at least 2009, when Google introduced Android OS 2.0.
Apple ID reload
With Apple's new iCloud feature, you can back up your iDevice's data including apps, e-books, calendar and so on. Then if you buy a new iOS device, you just type in your Apple ID and password and your new device gets populated with all the content backed up to iCloud. It's part of Apple's new PC free push, and Android users first got a taste of this feature in 2008.
Social networking integration
Apple is building deep Twitter integration into iOS 5 that will let you tweet content from a variety of apps including Photos, Camera, Safari, YouTube and Maps. Granted, Android doesn't have Twitter-specific integration, but it does have a developer feature called Intents. This feature means Android devices can send content between apps on the phone, including social networking services. Sure, it's not the one-touch offering you get with Twitter in iOS 5, but Android allows you quick access to more than just Twitter.
Over-the-air updates
Apple is finally catching up with Android by offering over-the-air updates that let you update your phone's software without syncing with iTunes. Android has been offering such updates from day one, but Android devices are also notorious for getting update rollouts very slowly. This problem had more to do with device makers and carriers than Google, but it will be interesting to see how well Apple can execute a feature that has proven problematic for Android.
Camera volume snap
Many Android devices and camera apps have included a hardware shutter button control for a long time, a new feature available in iOS 5 that lets you snap a picture with the iPhone 4's volume button. But maybe it's not Android that should be surprised to see this feature but Camera+, an iPhone app that tried several times to include this feature in their app.
So that's how Apple has copied Android, or did Apple copy Windows Phone 7? Microsoft's Phone 7 chief Joe Belfiore recently said on Twitter he was "flattered" to see so many Phone 7 features headed to iOS 5. Shocking isn't it? Who knew they were still selling Windows Phone 7 devices?
Connect with Ian Paul ( @ianpaul ) and Today@PCWorld on Twitter for the latest tech news and analysis.