Could you print counterfeit money, certificates, or other official documents on a color laser or LED printer? Some current printer models are indeed capable of creating reasonable facsimiles. The authorities, however, have already taken steps to thwart such activity.
Print any nontext image on your printer, and take a very close look at it under bright light: You might just be able to make out a subtle pattern of yellow dots covering the page. Those dots are a microscopic code that allows government agencies to trace the page back to the printer that created it–making the person who pressed the Print button pretty easy to find.
How is the code printed, and what data does it contain? That's secret, of course–printer vendors remain tight-lipped about the details. In 2005, the Electronic Frontier Foundation cracked the anticounterfeiting code on a Xerox color laser printer; the documents the EFF examined were date- and time-stamped, and could be traced to the location of the printer. Digging further in 2008, the EFF used the Freedom of Information Act to obtain hundreds of pages of documents on the use of printer-tracing technology from the U.S. Bureau of Engraving and Printing. According to EFF staff technologist Seth Schoen, "the strategy of the government agencies that have worked on this technology–both U.S. and foreign governments–is mainly to keep as quiet as possible and hope that as little information as possible gets out."
As color laser printers become affordable enough for small or home offices, this tracing technology is coming closer to where we all live. "We were able to buy a low-end Dell color laser that was targeted to home users for just a few hundred dollars," Schoen notes, "and it included tracking dots. It seems like they're a part of the printers that more and more people use every day."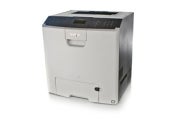 Consumers who discover the dots are understandably surprised. Brahm's Yellow Dots, a blog dating from 2008, chronicles the efforts of Brahm Neufeld, a student at the University of Saskatchewan in Canada, to communicate with his printer's vendor, Lexmark, after a friend told him about the yellow dots. To Lexmark's credit, the company eventually acknowledged what was going on and even offered to refund Neufeld for his printer. Neufeld, now an electrical engineer, remains concerned about the technology and the extreme discretion that printer vendors are exercising around it. "My motivation was always to document my experience–as a consumer–trying to get printer companies to fess up to this somewhat-shady practice."
What does all of this mean for you and your beloved color laser or LED printer? Unfortunately, you can do nothing about it, even though it means that almost anything you print on a compliant laser printer could, theoretically, be traced back to you. Consider, too, that when PCWorld reported on the yellow-dot controversy in 2004, the technology was already about 20 years old. "There's almost certainly a new-generation tracking technology that does not use yellow dots," warns Schoen. As if we needed more reasons to be paranoid.