At a Glance
Expert's Rating
Pros
Moderately good gaming performance
Looks good, with a gorgeous LCD
Cons
Audio quality could be better
Terrible trackpad configuration
Our Verdict
Acer's digital media powerhouse delivers a bright screen, but makes a few too many compromises.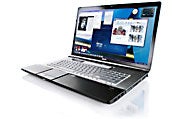 When I first hauled out the Acer Aspire 8950G from the backpack, I almost dropped it–not because it was that heavy, but because it was lighter than expected. This massive (I hesitate to say "notebook") desktop replacement system sports an 18.4-inch, true 1080p LCD panel. At 8 pounds, 5 ounces without the power brick, it's lighter than some smaller systems that have been through the lab here. Even with the 120-watt power supply, the weight falls just a little short of 10 pounds.
It's still too big to carry around, but it could make for a useful living room PC. The system includes an Intel Core i7 2630M quad-core CPU clocking in at 2GHz and maxing out at a Turbo Boost clock of 2.9GHz. The CPU is complemented by 8GB of DDR3 DRAM and 64-bit Windows Home Premium. Driving that big, bright LCD panel is an AMD Radeon HD Mobility 6850M discrete GPU with 2GB of GDDR5 video RAM. Given the GPU's pedigree, I expected greatness when it comes to gaming performance as well as reasonably good video playback quality.
The game tests brought me back to earth, however. The Aspire 8950G is a cut above many laptops when it comes to overall gaming performance, but you'll still need to dial back graphics settings to about "medium" to get good frame rates in current-generation games. Far Cry 2 ran at 44 frames per second (DX10, "optimal" settings), while the recently released DiRT3 mustered 20 fps, and Total War: Shogun 2 eked out only 16 fps. (These tests were run with all graphics settings maxed out, but antialiasing disabled.)
Performance in desktop applications proved robust, however, with the unit earning a strong WorldBench 6 score of 128. The battery life of this massive unit was a surprisingly good at 4 hours, 41 minutes. The 750GB, 5400-rpm Toshiba hard drive is capacious, but seems a little slow on bootup. A system like this deserves a Blu-ray drive, and Acer delivers one, in the form of a Panasonic unit that doesn't generate a lot of distracting seek noise.
The keyboard has a good feel, with nicely done tactile feedback, but the layout could be better. The arrow navigation keys are tiny and clustered tightly together. The dedicated numeric keypad, however, offers widely separated keys, making its use as a 10-key pad easy.
While the keyboard is mostly good, the trackpad is mostly bad. It's extremely sensitive, and you'll often see the mouse cursor flying wildly across the screen. That's partially curable via some control-panel settings. However, someone at Acer decided that building media control keys into the glass surface of the trackpad is a good idea.
It's not. Really, it's not.
You can use the trackpad either as a pointing device or as a set of media-control touch-sensitive buttons, but not at the same time. This feature is toggled via a gigantic button placed between the two main mouse buttons. That means you can accidentally enable the media control keys all too easily, and suddenly your mouse isn't responsive. Unless you're looking at the trackpad, you won't know why. Luckily, the big volume-control wheel directly beneath the trackpad works whether or not the media-control feature is enabled.
The handling of standard-definition video scaled up to the full 1080p resolution of the screen is a mixed bag. DVD playback seems noisy, though edge enhancement is thankfully minimal. Blu-ray high-definition playback looks much better, but overall video quality is still a touch soft.
Audio sounds fairly good through the built-in speakers. Acer ships this model with Dolby audio-enhancement software, which helps movie playback substantially–the virtual surround sound works fairly well, though the surround "speakers" are still more front than rear. You still don't get much bass, though, so low-frequency effects are often missing. Music playback is less robust. In stereo mode, vocals take on a dirty, edgy quality, though the speakers sound fairly good in pop and rock.
The Acer 8950G is a capable digital media system that can handle current-generation DirectX 11 games if you're willing to dial down detail settings a bit. High-definition playback is generally pretty good, but not exceptional. At roughly $1500 as configured (price as of June 7, 2011), it's a balanced set of compromises that falls short of perfection, but gets the job done.