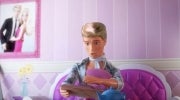 If you believe Greenpeace, Barbie and Ken are the latest couple to air their differences online.
Using Flickr, Facebook, and YouTube, Greenpeace activists announced that the plastic pair are on the outs over allegations that Mattel uses rainforest-sourced paper pulp in its packaging, thus endangering clouded leopards, Sumatran tigers, and orangutans.
In the past, Greenpeace has targeted Apple and game console makers Nintendo and Sony for what it has called dirty manufacturing practices and use of toxic materials. The group now hopes to create outrage among Barbie's animal-loving preteen girl fans–2.2 million of whom like Barbie on Facebook. Her page was closed to comments after activists plastered it with posts like, "Don't you feel gulty about destroying forests???"
Concerted Campaign
To kick off the campaign, Greenpeace unfurled a banner Monday at Mattel's headquarters in El Segundo, California. "Barbie, it's over. I don't date girls who are into deforestation," the banner read, accompanied by a drawing of a corporate-looking Ken look-alike. Viral elements include Ken's "own" Facebook page (set up by Greenpeace), which offers an "Angry Ken" profile pic and links to the e-mail of Mattel executives.
Mattel says the company has been negotiating with Greenpeace over rainforest issues, and released a statement expressing disappointment that the environmentalists "have taken this inflammatory approach."
The campaign includes a YouTube interview with Ken–clearly aimed at an older audience than the 3-to-11-year-olds whose love of Barbie and all her accoutrements have turned the fashion doll into a $3 billion brand whose curves and embrace of all things pink prompt the scorn of anti-gender-stereotyping moms everywhere.
Ken describes himself as "winning," then breaks into a bleeped-out tantrum after being told his girlfriend killed Sumatran tigers and orangutans for "cheaper packaging." Adds the interviewer: "Where do you think all that extra money came from for those chest waxes, Ken?"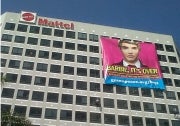 While Mattel employees took cellphone photos of the banner Tuesday, a woman dressed in pink-and-blue Spandex handed out literature from a pink bulldozer in a nearby parking lot. Eight people were arrested.
Greenpeace says it mounted the campaign to draw attention to the toy industry's use of glossy cardboard packaging whose pulp is partly sourced from Indonesian forests through a Chinese paper producer. An independent lab detected "mixed forest hardwood" from rainforest species in packaging samples from products made by Mattel, Hasbro, Lego, Disney and other toy companies, Greenpeace said.