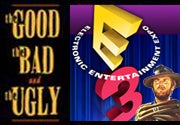 E3 isn't over, but the big announcements from Microsoft, Nintendo, and Sony have already been made. As the dust settles from the kickoff press conferences and keynotes, PCWorld's editors attending E3 weigh in on the big wins, the disappointments, and the news that made them miss appointments.
First up is PCWorld's Patrick Miller, an editor with a weakness for fighting games, Starcraft 2, and expensive personal electronics.
The Good: Microsoft's Xbox 360/Kinect news impressed me the most here at E3 — and trust me, I was just as surprised about that as you are while reading this sentence.
The fact is, Microsoft knows that the Xbox 360 is a smash hit with its core audience, and it is simply doing what it takes to expand its lead. Considering the Kinect sold fast enough to make it in the Guinness Book of World Records, pushing relatively lightweight, friendly Kinect titles like Kinect Star Wars and Dance Central 2 is a no-brainer that will keep the Xbox 360/Kinect combination spreading into more and more households.
While Microsoft is guilty of the same sequel-itis that everyone else is, adding tidbits like extra Kinect features for core audience titles like Mass Effect 3 make me want to own a Kinect. That's because I'm eager to see how motion controls can work to enhance an already-established game experience like Mass Effect's squad-based tactical shootouts. I adore the idea of motion controls, but I want to see them designed around a controller-based experience because that's how I like to play my games.
Finally, I'm pleasantly surprised by Microsoft's plans for a live TV service. My Xbox is already an integral part of my home entertainment center, thanks to DLNA and Netflix support, but I'd love to be able to use it for actual live TV as well–even if that means Nate and Alex will know exactly how much time I spend watching Real Housewives of New Jersey.
The Bad: I am going to take some flak for this, but I don't think Nintendo's announcements were that impressive.
The Wii U is promising, but right now Nintendo hasn't revealed enough details for me to formulate an opinion. Sure there are the slick third-party gaming trailers –made with footage that wasn't actually from a Wii U game– and some tech demos that show what Nintendo's new system could do, but I want to hear more before I'm going to consider being wowed.
When it comes down to it, the reason Nintendo was hyping Wii U games from third-party partners so hard is because the Wii was a miserable failure in that regard. Nintendo getting back on track with the average Joe Gamer is certainly cause for celebration, but the company will need to do more than say "Hey Patrick, remember why you didn't buy a Wii? It's okay! We're getting Tekken now!" to get my E3 nod.
The Ugly: Sony, Sony, Sony. Your conference was your chance to redeem yourself for a generally mediocre season punctuated by twice-weekly security breaches. Instead, you give me a new PSP (which never really sold that well), sequels of games I didn't really like, and a big play into 3D. While I actually think the 3D play is kind of cool (I'm PCW's HDTVs editor), the fact is that nothing that came out of Sony's conference caught my eye. I was hoping for more.
Next up is PCWorld's Alex Wawro, who is always looking for new ways to play with the same old tech.
The Good: We've seen a lot of surprises at E3 2011, but the unveiling of Sony's sleek new portable gaming system called PS Vita is easily the most impressive. Attaching a $250 price tag to such a versatile piece of tech suggests Sony learned its lesson about premium pricing when the PS3 failed to sell well compared to the Xbox 360 and Wii. The company will almost certainly be selling the PS Vita at a loss for years to come, but getting the console into more hands (including mine) will help Sony win the handheld gaming championship.
One nagging question remains, though: how is Sony planning to stop software piracy on the PS Vita?
The Bad: Let's be frank, E3 2011 was a great show for everyone: Microsoft and Nintendo each held an impressive press conference packed with popular games and interesting tech, but neither surprised me like Sony did. Microsoft is clearly relying on its strong stable of exclusive games (including Gears of War 3 and Halo 4) to carry it through the year while appeasing Kinect owners with blockbuster titles like Mass Effect 3. That's not a bad thing, but it's not exactly ground-breaking either.
The Ugly: And Nintendo? Well, I suspect we were all surprised by the Wii U revelation, but personally I'm a little puzzled as to why I want to play games with a controller the size of a paperback. Frankly, Nintendo hardware always causes this sort of confusion; remember, nobody knew why they wanted to play handheld games with a stylus on dual screens either. Nintendo had to crank out games that showed us why its gaming device was superior. Nintendo succeeded with the DS and I hope it'll succeed again with the Wii U, but I'm going to remain on the fence until I see some software that makes me want a Wii U like I want a PS Vita.
Lastly, here is PCWorld's Nate Ralph who loves nothing more than to give Nintendo more money for hardware he'll never use.
The Good: Nintendo – or more specifically the Wii U – gets a big thumbs up from me. I'll get over the name eventually. We all got used to "Wii," right? I'm not entirely sure I want to own one — I bought my Wii on eBay during the height of its popularity (and scarcity), and can count on one hand the number of times I've actually fired it up.
But Nintendo has once again shown an almost preternatural ability to simultaneously amaze and confuse its audience.
Will Nintendo be successful with Wii U? Probably. I have some reservations, but even if Nintendo's only worthwhile third-party titles are simply ports of Xbox 360 and Playstation 3 games, the inevitable Wii U iterations of Nintendo's stellar first-party franchises (Mario, Smash Brothers and Pikmin, to name a handful) will be enough to make get me in line for its Franken-tablet.
And the best part: The competition will have no choice but to respond. They might still be a few years off, but the next iteration of Microsoft and Sony's consoles will have no choice but to be different. Nintendo (and Apple) have proven that you don't need the flashiest, fastest, most advanced piece of hardware to utterly dominate the industry. The arms race is over, and Nintendo's delightfully bizarre Wii U is poised to take gaming to fascinating new places.
The Not So Bad: Sony's PS Vita has a strong feature set, great opening lineup of games, and a reasonable $250 price. Those three data points nudge PS Vita into my "probably should buy" category. Had it not been for Nintendo's announcement, it'd probably be my favorite bit of news from the big three E3 news makers (Nintendo, Sony, and Microsoft).
But as it stands, the PS Vita is par for the course for Sony (and Microsoft): let's figure out what works, and give you more of it. Both of their conferences were defined by sequels to blockbuster games. Uncharted 3, Gears of War 3, Resistance 3 — these are all experiences we've had before (more or less).
The Miscellaneous: Based on my lack of interest in Kinect console shooters, I was pretty blasé about Microsoft's E3 2011 lineup. Although, when Mass Effect 3 gets voice commands that will be pretty nifty.