Verizon Wireless is going back on its word and trying to cage a wild beast that yearns to be free, according to a complaint filed with the FCC over the mobile carrier's decision to block third-party tethering apps on Android phones.
Apps like PDANet can be purchased for a one-time fee and then allow users to access the data feed on their Android phones via USB or Bluetooth without rooting, essentially circumventing the monthly fee carriers like Verizon charge to tether or use a smartphone as a Wi-Fi hotspot.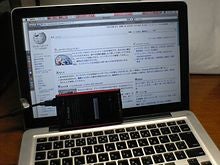 The group Free Press, which filed the complaint, says that when Verizon attempted to block user access to tethering apps, it violated a Net neutrality agreement with the FCC dating to when the company won a large chunk of mobile broadband spectrum in 2008. A Verizon spokesman responded by passing the buck to Google: "Verizon Wireless does not block applications available to its customers through the Android Market," said Edward McFadden.
This is true, of course, but it's widely reported that Verizon asked Google to block the apps and Google agreed.
I'm happy to let the lawyers parse the language of that agreement and who violated what; I'm more concerned with Verizon's attempt to cage that wild beast – information. Verizon can charge me for access to information (as it currently does every month), and according to the most recent Net neutrality rulings, it can even degrade that access if it's over a wireless connection for the alleged greater good of the network, but you can't stick the information back behind bars after I've paid for its release.
Recent decisions in favor of the right to "jailbreak" devices affirmed this principle with respect to hardware. And with Verizon and other carriers moving toward data caps as more information migrates to the cloud, its attempts to shove data back in a non-tetherable cage violates some basic consumer rights as well.
When a company offers unlimited access to anything, there are implicit limitations – often also spelled out in fine print somewhere. For example, when I pay $10 for an all-you-can-eat buffet, I don't expect that I've just purchased a lifetime supply of food. But when a specific and measurable limit is placed on such access – let's say three plates worth – that's essentially a guarantee that I can get three plates worth of whatever is being offered in the buffet line, and in whatever combination or order I see fit. The same goes for data access. If my contract allows me 5 gigabytes of data access, I've basically purchased the full balance of that 5 gigabytes to do whatever I want with in the span of a month, so long as I don't break any laws in the process.
Capping data access and then imposing further limitations on how I can use the data I've already purchased access to violates the spirit of the agreement between carrier and consumer. By the time the data reaches my device, it's already mine, but instead Verizon is sticking its greasy hand on to my second plate from the buffet and dumping salt all over my helping of fried rice, saying "if you want to consume this part, son, you'll have to do it my way." Not cool.
Fortunately, it's a truism that information yearns to be free and uncaged, which means that there's plenty of other ways to get ahold of a tethering app like PDANet that Verizon can't block access to.