Microsoft is reportedly considering plans to build its own Windows 8-based tablet in partnership with Texas Instruments and hardware manufacturers in Taiwan. The rumored Microsoft-branded tablet would be available by the end of 2012. The move would be a response to the success of Apple's iOS devices such as the iPhone and iPad, as well as Android-based tablets and smartphones from Google and its manufacturing partners. To create its tablet competitor, Microsoft plans to "copy its branding strategy" from products such as the Xbox 360, Kin and Zune, according to Taiwan-based DigiTimes.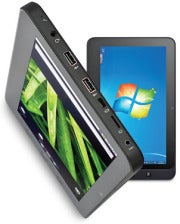 While Windows 8, with its Phone 7-inspired touch interface looks promising, I have to wonder if Microsoft's rumored tablet plans would be an Xbox 360-style success or a Kin-sized disaster. There are several pitfalls that could trap the company. If the purported tablet has 3G or 4G connectivity, will Microsoft and its carrier partners offer expensive pricing, as happened with the Kin? Will Microsoft stick with its tablet over the long term or will the Microsoft-branded device be discontinued as soon as it appears, another Kin specialty.
As for branding, the Xbox 360 is a great brand, but Kin and Zune haven't exactly been household names. The Zune, while a critically acclaimed service, hasn't made a dent in Apple's stranglehold on the digital music market. And Kin's branding, well, there was that sexting controversy.
Microsoft's Nexus One?
Perhaps Microsoft's plan is to do something similar to what Google did with the Android-based Nexus One. By building its own tablet, Microsoft can show the world what a properly envisioned Windows 8 tablet should look like. A Windows 8 tablet free of manufacturer crapware and with killer specs that would make any iPad 2 owner blush.
Microsoft already does something similar for computers with its Signature PC program through the Microsoft Store. Signature PCs are basically computers made by companies such as Dell, HP and Samsung that are sold without trialware and optimized for performance by Microsoft. The company's rumored Windows 8 tablet may be just an extension of the Signature PC program, but with a Microsoft-branded device.
But would you be more interested in buying a Microsoft Windows 8 tablet or a Windows 8 tablet from typical device makers such as Sony or HTC?
Connect with Ian Paul ( @ianpaul ) and Today@PCWorld on Twitter for the latest tech news and analysis.