High-end gaming peripheral manufacturer SteelSeries announced its new line of Diablo III-themed mouse and headset at E3. We were able to get some hands-on time with the new gear, which is tentatively scheduled for an October debut.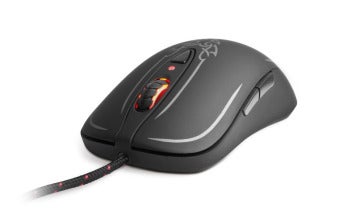 Even if you've never considered buying a mouse specifically for a video game, SteelSeries knows that Diablo III, Blizzard's latest installment in their classic action role-playing game franchise, might change your mind. That's because Diablo II was such a mouse-destroying clickfest that wearing out your mouse buttons during prolonged game sessions wasn't unheard of.
The company says the SteelSeries Diablo III Mouse ($70) is guaranteed for up to 10 million clicks (which they claim is three times the click lifespan of an average mouse). And no, you don't have to keep count yourself–the mouse's cross-platform driver software actually keeps track of those clicks, complete with a heat map to show you which of the seven buttons are getting more work than others. The driver software actually lets you set different profile settings for different Diablo III character classes, too, so you don't have to worry about reconfiguring your mouse each time you want to switch characters.
While I wasn't able to try the mouse out in Diablo III (it's not out yet), I did get to play around a little bit in World of Tanks with it. While it felt light compared to my Razer Naga, the Diablo III's buttons felt responsive and fairly easy to hit, and the click sound was slightly muted compared to other gaming mice. The latter is something which might turn off the gamers looking for a deep, satisfactory clicking sound, but anyone in the immediate vicinity of those gamers probably will appreciate the relative quiet.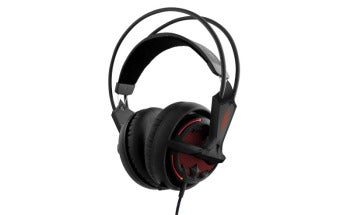 The Diablo III headset ($120) is a modified version of the SteelSeries Siberia v2 headset, and features the same sturdy frame, audio quality, and retractable mic. While I wasn't able to get a good feel for its sound insulation (we were sitting in a booth that was positioned directly underneath a gigantic speaker system), it felt comfortable, sounded pretty good, and (most importantly) looked cool.
Which brings me to the aesthetics. Hardcore gaming costs a premium because it looks cool, and these toys certainly do. Both the mouse and headset are designed in the same basic matte black color scheme, with slightly recessed "demon red" LED lines running throughout the unit. The LEDs might not help you play better, but they certainly make your equipment look like it was forged in the fires of Hell itself.
Don't forget to check out PCWorld's Game On blog for further E3 coverage.