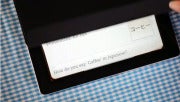 Evernote and the iPad both have slavishly devoted fans. Now Evernote has unveiled a clever application that uses the iPad2's Smart Cover to spit out little pieces of info every time the iPad is opened. It's the first-ever iPad app to use the Smart Cover to add functionality.
Called Evernote Peek, the app takes advantage of the Smart Cover's magnetic panels. Lift the first panel to get a quiz question or vocabulary word, then lift the second panel for the answer. Study for a Chinese vocab test, learn chord changes or review the names of all your cousins before the next family reunion.
VP of Marketing Andrew Sinkov says he and another Evernote employee were playing with the new Smart Cover on a plane and admired how the magnetic cover seemed more like an extension of the iPad than an accessory.
"As we sat there opening and closing the cover, a question struck us: could we use the cover to control an app that would make Evernote even more useful?"
Evernote Peek works with the StudyBlue flashcard application's published notebooks, or any notebook of your own. Download the free app from the iTunes Store and watch the YouTube tutorial to find out more.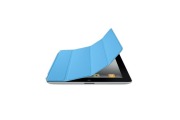 "Use Peek to brush up on a language, prepare for a test or remember a recipe," Sinkov writes. "Want to keep track of people you met at a conference? Put their names into the note title and company into the note body in Evernote, then quiz yourself in Peek."
Commenters on Evernote's blog responded with even more ideas, including teaching reading skills or retraining people with traumatic brain injury.
Along with news of Evernote Peek, the software company announced that its user base just passed 10 million users, up from 5 million last November, with 425,000 people paying for its premium features.
And it's moving more into the world of application development, hosting the first Evernote Trunk Conference August 18 in San Francisco. At the conference, Evernote will announce the winners of its inaugural Evernote Developer Competition, which offers developers $100,000 in prizes for the best new products integrated with the Evernote platform.