With Mass Effect 3, the epic sci-fi series' transformation from geeky RPG to hardcore shoot-em-up is complete. Fundamentally, it's the same game that became a runaway hit in 2007, but a hands-off demonstration at E3 showed a focus on fast action over careful strategy.
Electronic Arts insists that this is the perfect time for newcomers to jump into the series. The Reapers, an ancient race of space station-sized predators, returns to destroy the galaxy, as they have done cyclically throughout history. Earth is destroyed, and Commander Shepard — first name and gender decided by the player — must rally allies to save organic life.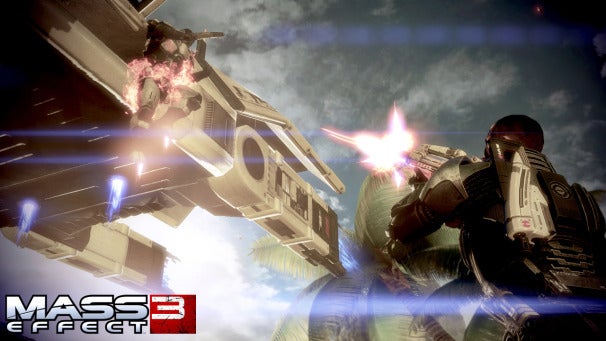 As with previous games, conversation and decision-making will factor heavily into Mass Effect 3's outcome, but most of the E3 demo was focused on action. The game's biggest additions seem designed to speed up the game with quick run-and-gun killing.
For example, players will be equipped with frag grenades that can be flung without pausing the action. They'll also get a short-range weapon called the Omniblade that can gut enemies in a single blow. And for the first time, players will be able to upgrade individual weapon components to make more powerful guns.
I don't want to judge these changes without playing them myself. Players will still be able to pause the action and unleash special powers — for instance, levitating enemies in the air or knocking them off their feet with shock waves — but the mechanisms are in place for players to treat Mass Effect 3's action sequences as a more conventional shooter. We'll find out whether this is a change for the better when Mass Effect 3 arrives on March 6, 2012.
Follow Jared on Facebook and Twitter for even more tech news and commentary.