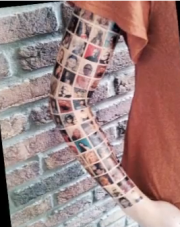 So that crazy lady who let a tattoo artist ink 152 of her Facebook friends on her arm isn't so crazy after all because the entire thing was just an advertising stunt.
Youtube user Susyj87 uploaded a video of herself getting a sleeve tattoo of her 152 Facebook friends. The video, called "My Social Tattoo" has received almost 1.5 million views since it was uploaded May 30.
DutchNews reports that the whole thing was just a hoax — Susyj87 didn't get a real tattoo, she was inked with a transfer. Rotterdam tattoo artist Dex Moelker reportedly admitted that the tattoo was a "tryout tattoo, a transfer, that washes off in a couple of days." The "tattoo" only took a couple of hours to apply, not 30 hours as the video claimed.
Apparently the stunt was for a local Dutch firm that specializes in making gifts out of Facebook profile pictures.
All I can say is, I'm relieved — now Susyj87 won't have to run back to the tattoo artist every time one of her Facebook friends decides to change their profile picture.
Follow Sarah on Twitter (@geeklil) or on Facebook