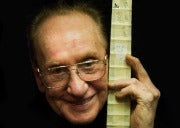 Google has created a play-along Doodle to mark the anniversary of electric guitar inventor Les Paul's birth. Les Paul (1915-2009), for those unfamiliar, was a jazz/blues musician and inventor of the solid-body electric guitar that kicked-started rock and roll.
Featured on Google.com's search page the doodle allow you to run your mouse cursor over the strings to hear authentic Les Paul strumming. You can try picking out a tune but a better method is to activate the keyboard controls by pressing the button beneath the strings. Then tap keys from left to right to play a scale (each row of keys is tuned the same), or pick out a melody.

Versions of the Doodle include a record button, and invited people to share their tunes via a unique URL. This has since vanished on some version of the Google search page but is still visible on others.
Google says the Doodle was achieved using a combination of HTML5, JavaScript and the Flash plugin, the latter providing the sound of the strings. Theoretically HTML5 could handle it all but Google has to retain compatibility with older browsers.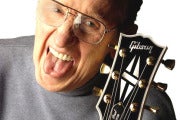 Paul wasn't a one trick pony and also invented multi-track recording, which made studio recording a whole lot more effective. Suddenly musicians didn't have to play everything at once but could record track-by-track and mix everything together later, adding extra lines of instrumentation if they wished.
The Smithsonian Institution recognized Paul with a Bicentennial Medal before his death.
Google's first Doodle back in 1998 celebrated the Burning Man festival and early Doodles simply celebrated holidays or special events, such as the Olympics or Earth Day. Doodles evolved to celebrate birth anniversaries of notable figures in science and art, and in recent times Doodles have become interactive. The Les Paul Doodle is a perfect continuation of this fine tradition, being a tribute to a man involved in both art and science.
(Images courtesy of LesPaulOnline.com)