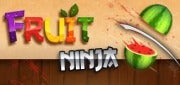 Halfbrick's ridiculously habit-forming game Fruit Ninja will transform into Fruit Ninja Kinect this summer, part of Microsoft's Summer of Arcade promotion for the Xbox 360.
It's one of a legion of titles coming soon for Kinect, whose 3D motion sensing juju is busting sales records and capturing game developers' imaginations. Also look for Kinect Star Wars, Forza Motorsports 4, Gunstringer, and Kinect Disney Adventure, among others.
(See how Kinect games make users look like LOLcats, as they battle virtual storm troopers or collect hugs from virtual Disney characters.)
Whack Fruit With Your Entire Body
The Fruit Ninja Kinect concept is simple: Whack passionfruit, lemons, and coconuts with your whole body, not just your index finger. The multiplayer mode pits you and a shadowy ninja friend against one another.
Fruit Ninja is the second-most popular casual game, trailing only Angry Birds. Halfbrick spokesman Phil Larsen said Thursday that it appeals to nontraditional gamers as well as hardcore console users. ""It's almost a little bit of an escape," Larsen said. "They spend five hours playing 'Call of Duty,' then they say 'Hey, I can play this for a little while and relax.' "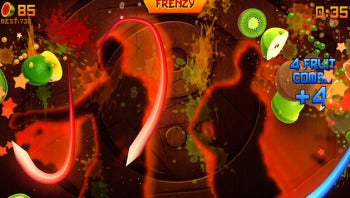 A Facebook version, Fruit Ninja Frenzy, is currently in beta, set to release in the next few weeks. Like other Facebook games, it allows you to reveal the extent of your addiction, er, to compete online against your friends.
But Fruit Ninja Kinect, demoed at E3 this week, takes the casual game to a more intense level–and makes gameplay possible for people with big fingers or poor fine motor skills.
Gamezone's Matt Liebl says, "I have never felt more like a ninja in my life!" and Games.com warns, "This is (in) no way an invitation to play Kinect with kitchen knives."
Our Chris Brandrick predicted this back in March, when a team of German students demonstrated a virtual reality version of Fruit Ninja played in a larger-than-life immersive environment. "What we want to know now," he wrote, "is just how long will it be before original developers Halfbrick see this and think of bringing their smash hit application to the Kinect, Move or Wii?" Less than three months, as it turns out.