Amazon and Best Buy have started taking advance orders for Chromebooks, lightweight laptops running Google's Chrome OS. The Chromebooks are set to start shipping June 15, and orders are limited to the U.S. right now, but Google promises to release them in other countries this year.
The first Chromebooks available for pre-order come from Acer and Samsung, with Wi-Fi-only versions starting at $380 for the Acer Cromia, or $450 for the 3G version. Samsung's Series 5 Chromebooks start at $430 for the Wi-Fi-only version, and $500 for the 3G model.
My PCWorld colleague Jason Cross reviewed the Samsung Series 5 Chromebook, giving it only 2.5 out of 5 stars, highlighting fast boot and resume time, but poor performance and severely limited utility.
Samsung's Series 5 Chromebook has a 12.1-inch screen, powered by an Intel Atom processor, with 2GB of RAM and 16Gb solid-state storage. The keyboard and clickpad are where Chromebooks seek to improve the general netbook experience. The Samsung Series 5 has well spaced-out keys and a roomy trackpad, making it comfortable to type and scroll through Web pages.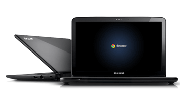 Software-wise, the novelty with Chromebooks is, of course, Chrome OS, which can be summed up as Google's Chrome browser on steroids. As Jason Cross puts it, "Just launch the Chrome browser, maximize the window, and try to live your entire computing life right there." There is however a rudimentary file browser and media browser, but most of your experience is limited to what you can do through a browser window.
The limited capability of Chromebooks will probably be the biggest hurdle for the category. Their price is so close to tablets and even higher-speed cheap laptops, that Chromebooks are going to face a tough battle for customers' hearts.
Follow Daniel Ionescu and Today @ PCWorld on Twitter