Google is working on a mobile messaging service to compete with Apple's recently announced iMessage service, according to a report in the Wall Street Journal.
No details are available about how the system would work, but a reasonable assumption is that it'll be designed around the Google Android platform, and integrate with the existing Google Talk service. Google recently added video chat to Android, akin to Apple's Face Time, and the new service might build on this.
Apple announced its iMessage service earlier this week and will include the technology in the iOS 5 update later this year. It will offer a way for iPhone and iPad users to chat with each other, avoiding the need for cellular SMS, although will fall back to SMS if data services are not available.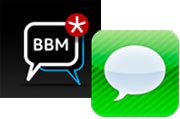 iMessage users will be able to share videos and the service makes up for shortfalls in the ages-old SMS protocol, such as providing read receipts.
All this is old news to Blackberry users, who've been using the Blackberry Messenger service for several years, and which offers a similar feature set. However, Blackberry's share of the handset market is currently nose-diving.
Despite the fact that messaging is essentially a last-century technology, there's still significant room for growth on the smartphone platform, says Onno Bakker, co-founder of company behind the popular eBuddy instant messenger software.
"I think the big difference with the new smartphone messengers is that they can leverage existing social graphs," he says. "Notably the phonebook — your IM contact list is your phone book."
The always-on, always-carried nature of smartphones offer advantages for next-gen messaging on smartphones, he says.
"On a phone your presence is implicit. You are reachable, unlike the PC that might be switched off — or you might not be at your desk. The sender knows the receiver will get their messages, very much like SMS. So although the technology is much the same as older messaging services, the perception is really different."
The hardware offered by smartphones also makes for a different kind of messaging service, says Bakker, who points out that the most popular question asked via SMS is "Where are you?" With the geolocation feature offered by many smartphones, this question could be answered by the messaging application itself. Users would know to only text message a friend while they're in transit, for example, but know to make a voice call when they're at home.
The Achilles' Heel of the new messaging services could be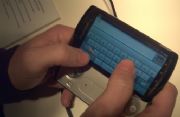 a lack of cross-platform messaging, Bakker says, pointing to his own XMS service that aims to extend SMS messaging in a similar direction to Apple and Google's services, yet works on both Android and Apple devices, with more platforms to be added soon.
Because of lack of cross-platform support, he adds, SMS isn't going to die out too quickly, although cellular providers need to focus far more on data plans.
This view is echoed by Ted Livingston, CEO of Kik, a startup that makes messaging software for Android, iPhone, and iPod devices.
"For the next few years everyone will have a family member or friend that doesn't have a smartphone," he says, " So providers will need to keep their voice and texting plans."
However, any new messaging service relying purely on data services would need the same kind of rock-solid reliability as SMS, Livingston adds.
"In North America, most of us already have phone plans and unlimited texting plans. So no matter how many enhancements a product brings over traditional voice or text, if the reliability and quality is worse, people will stop using it. We have seen these huge hype cycles around free texting and voice apps, which quickly die out as users become frustrated," he says.