The Amazon Kindle changed the way tech-savvy readers consume text and opened up the market for e-readers. When it comes to reading articles on the Web, however, tablets still have it beat. Even so, there's a useful feature in the Kindle browser that makes online articles almost easy to read with the Kindle, and it's called Article Mode.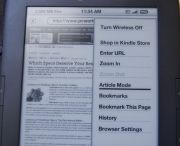 The biggest problem with the Kindle's E-Ink display is that it's terribly slow to render. That becomes an even bigger problem when you add Web browsing to the mix, because the Kindle is also monstrously slow at loading typical Web page filled with ads and nav menus. Article Mode eliminates all the extra junk from the page so you can focus on the content.
Launch your Kindle's browser by pressing Menu on the keypad from the main screen, and selecting Experimental from the drop-down menu. Click launch browser, and go to any Web page by pressing Menu while in the browser and selecting Enter URL. Once you've loaded an article you want to read, press Menu again and select Article Mode.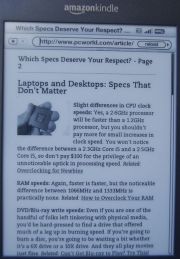 Article Mode eliminates everything but the main article text and inline images, making the reading experience pretty similar to what you'd get from a Kindle ebook. To scroll through the page, use the Page Forward and Page Back buttons as you would with any other ebook.
The feature is far from perfect (which partly explains why the browser is still listed under Kindle's Experimental menu). In my experience, it usually forces you to exit Article Mode to advance to the next page of a story, which is fantastically annoying. But if all you have is your Kindle and you want to read some articles on the Web, Article Mode can improve the experience a bit.