Makers of hard drives and NAS drives will throw out lots of esoteric terms (many of which they made up) to describe their products. But there are only a few things you need to pay attention to to ensure you make the right choice.
Storage: Specs That Don't Matter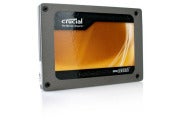 Features that only one vendor lists: For internal drives and some external drives, manufacturers often make up terms to describe a function or explain what's happening inside the drive. For example, "no-touch ramp load technology" is just a fancy way of saying "vibration reduction," while "IntelliSeek" is marketing speak for "variable RPM." It's not that these functions don't matter, but much of it boils down to promotional copy rather than unique features that give the hardware a competitive performance edge. Chances are, another drive on the shelf does something similar, but calls the function by a different name–or doesn't even draw attention to it at all. Related: 7 Backup Strategies for Your Data
Storage: Specs That Sometimes Matter
Revolutions per minute (beyond 7200): Many of today's hard drives don't specify a number for revolutions per minute, but it still matters. The physics of speed remain the same, and a 10,000-rpm drive remains faster than a 7200-rpm drive, which remains faster than a 5400-rpm drive. But for all intents and purposes, speed is not a huge competitive focus right now.
Among makers of consumer hard drives, Western Digital is the only one with a 10,000-rpm drive, and that model remains a niche product. Most desktop drives–with the exception of performance-oriented drives–have a variable speed that hops between 5400 and 7200 rpm, depending on the task. Portable drives are where you will likely see the most difference, as in that category it's a big jump between 5400 and 7200 rpm. Even so, you rarely see 7200-rpm external portable drives–and if you do, you'll pay a premium for one. Related: Portable Hard Drives: A Terabyte in Your Pocket
Storage: Specs That Always Matter
Ports and interfaces: With storage, you have to make sure that the drive you buy is compatible with the system you wish to use it with. This is a crucial consideration if you're buying a solid-state drive or an internal hard drive, as a 6Gbps SATA connector won't help if you don't have 6Gbps SATA on your system. Unless you're the type of person who likes to tinker with your PC over time, system compatibility for an internal drive will never change.
On external drives, look for the fastest connector that your system can support. For PCs, that includes eSATA and USB 3.0–but only the latter can work without a power adapter. We recommend USB 3.0; even if you don't have USB 3.0 on your computer today, a USB 3.0 drive will work at USB 2.0 speeds when connected to a USB 2.0 port. Chances are good that you will have USB 3.0 ports on your next machine, so that drive should last you a long time. Related: USB 3.0 Hard Drives: Full Speed Ahead