World IPv6 Day boosted the amount of native IPv6 traffic on the Internet, but it mostly increased the use of transitional protocols that won't help to solve the looming shortage of IPv4 addresses, according to researchers studying data from Wednesday's event.
The 24-hour experiment was a trial run for the next generation of Internet Protocol, which offers far more potential addresses than the current version, IPv4. More than a thousand Web pages, including ones at Google, Facebook, Yahoo and other major destinations, temporarily were made available over both IPv6 and IPv4. The event was designed to test how well client, server and network components performed when making connections over IPv6.
In fact, the day was less a test of IPv6 and more of the technologies to be used on the way to the day when IPv4 goes away. But those transitional tools are important to try out, because they are likely to come into play for many users and enterprises in the coming years.
Not Easy to Reach
For a user to reach a website over IPv6, there has to be an IPv6 address provided for the site and the client system has to be able to recognize and go to that address. Major participants and the Internet Society, which organized World IPv6 Day, reported that few problems arose as users went to the IPv6 versions of pages.
However, most of the additional traffic on Wednesday didn't use IPv6, but rather a variety of protocols designed to allow IPv6 to coexist with networks dominated by IPv4. In most cases the transitional protocols don't help to solve the problem of quickly dwindling IPv4 addresses, according to IPv6 consultant Craig Labovitz, the former chief scientist at Arbor Networks. While this result did not surprise researchers, it signaled that the journey toward IPv6 is just beginning.
Even during the event, IPv6 and related protocols made up only a small portion of the traffic on the Internet. Before the event began at midnight UTC on Wednesday, that share was only 0.135 percent, according to tests by Sandvine, a network equipment maker. During the test, the proportion grew to 0.15 percent, Sandvine said. Others who compiled numbers found different results, because they were measuring different portions of the Internet.
Biggest Interest
The biggest growth was in transitional protocols, Sandvine reported. Both before and during the test, most of this traffic used the Teredo protocol. Teredo made up 80 percent of IPv6-related traffic before World IPv6 Day and 77 percent during the event, the company said.
Teredo is one of a handful of protocols used to help IPv6 packets traverse IPv4 networks. Others include 6to4 and 6in4. They use tunneling techniques, such as encapsulating IPv6 packets in IPv4 packets, to get through the routers and other equipment on a network that don't support the new protocol. For example, U.S. cable operator Comcast is introducing dual-stack services, which support both versions of IP, but hasn't yet rolled them out to all its subscribers. Those who don't have the full dual-stack services have to use a transitional protocol to reach an IPv6 resource, according to Scott Iekel-Johnson, a current product manager at Arbor, which provides network security software to Comcast.
Teredo dominates the test results probably because it is included with Microsoft Windows Vista and Windows 7, Labovitz said. If a user is running one of those OSes on a PC, the OS might connect with the IPv6 version of a website if it is available, he said.
IPv4 Still Needed
Because Teredo and other tunneling protocols use both an IPv4 and an IPv6 address, they don't diminish the need for the older type of address, several experts said. However, they are necessary on the road to IPv6, said Martin Levy, director of IP strategy at Hurricane Electric, an Internet service provider with a focus on IPv6.
"They enable you to take this fundamental step of enabling IPv6 on a content website and know that people can still access it in the transitional time when they are not provided a real IPv6 connection," Levy said. "In order to get from here to there, you have to rely on these. But these technologies are not the 'there.'"
There are some transitional technologies that can help to preserve IPv4 addresses, including carrier-grade network address translation, which lets many endpoints share a single IPv4 address, Levy said. However, this type of address translation has some limits in scaling up, according to some experts.
In addition, the special IPv6 Web pages that users were accessing on Wednesday didn't offer any special features or even higher performance than the IPv4 versions, participants in the event said. In fact, engineers were watching to see whether going to an IPv6 site via one of the tunneling protocols would make the experience worse than normal, according to Labovitz.
Yahoo made the HTML components of its Yahoo.com front page available via IPv6 and made the experience the same as for the IPv4 version, said Yahoo IPv6 Evangelist Jason Fesler. The company does not see IPv6 leading to new user experiences in the future, he said. "IPv6 is just a preservation of what we enjoy today," Fesler said.
Quiet Test
Though the traffic data from World IPv6 Day didn't reveal how users came to visit IPv6 pages, many probably didn't even know they were doing so, Labovitz said. Some operating systems will automatically try to go to an IPv6 page if it is offered, he said. Part of the purpose of World IPv6 Day was to test whether those systems would get to the sites or run into problems along the way. If all the software, hardware and network components along the way were not designed correctly or were out of date, end users might have experienced problems, he said. Those issues seemed to be rare on Wednesday, according to event participants and researchers.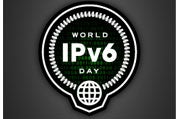 Because it took place on the Web, the test also led to a day with a more balanced mix of uses for IPv6, which is usually dominated by peer-to-peer file sharing. College students and other users concerned about network management techniques to discourage file sharing have discovered that these tools often don't work with IPv6 traffic, Labovitz said. This aspect of the new protocol is one that should command IT administrators' attention, because it has implications for security, he said.
"It may be that you are passing [IPv6 traffic] by default and you don't even know it," Labovitz said. "You need to understand what traffic is in your network."
Stephen Lawson covers mobile, storage and networking technologies for The IDG News Service. Follow Stephen on Twitter at @sdlawsonmedia. Stephen's e-mail address is stephen_lawson@idg.com