Let the Windows 8 hardware rumors begin.
According to Notebook Italia, Asus is eyeing Windows 8 for the next version of its Eee Pad Transformer, a tablet with an optional keyboard and trackpad dock that props the device up like a netbook.
The new model will reportedly launch in 2012, alongside a sequel to the Android version that launched in late April. Both models should be thinner and lighter than the current Eee Pad Transformer, and while the Android version will reportedly cost the same as the first-generation Eee Pad ($399 for a 16 GB model), the Windows version will be pricier.
The Eee Pad Transformer seems like a perfect fit for Microsoft's Windows 8 intentions. The operating system will have a tile-based interface designed for touch-screens, with apps created in HTML 5 and Javascript. The interface will be navigated with finger swipes, and users will be able to drag apps in from the bezel and run two apps side-by-side.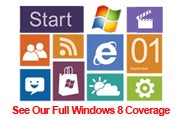 But beneath that touch-based UI will be plain old Windows, with apps and an interface that are best-suited for a mouse and keyboard. That's where a device like the Eee Pad Transformer will be useful. Its trackpad and physical keyboard will allow users to run legacy apps and get some work done, while the detachable tablet will allow for more leisurely uses, such as surfing the web or reading e-books.

Of course, there are plenty of lingering questions about Windows 8 itself: Will it provide the instant-on capabilities of competing tablet platforms? Will ARM-based Windows 8 devices be able to run legacy apps? And what can we expect in terms of battery life?
In any case, I hope Notebook Italia's early report pans out, and that a new Eee Pad Transformer is one of the first Windows 8 devices available. If the operating system is designed for both touch screens and laptops, it makes sense for hardware to take a similar approach.
Follow Jared on Facebook and Twitter for even more tech news and commentary.