Consumers can now buy an unlocked GSM-compatible iPhone 4 directly from Apple starting at $650. Apple sells unlocked iPhones in other parts of the world, most notably Europe, but this is the first time an unlocked iPhone is available to U.S. users. In early 2010, Apple started selling iPhones at list price, but the devices were still locked to AT&T.
The news comes a day earlier than expected after rumors about Apple's unlocked iPhone 4 plans surfaced Sunday.

If you're willing to pay the unsubsidized price, buying an unlocked phone frees you from having to commit to a two-year carrier contract. But while the idea of buying an unlocked iPhone 4 may be appealing, does it make sense? If you're thinking about picking up an unlocked iPhone 4, here's what you should consider.
The cost
Unlocked 16GB iPhone 4 GSM handsets are priced at $650 and 32GB models cost $750. You can choose between black and white devices, and, at the time of this writing, Apple quoted a shipping time of 1 to 3 days.
No micro-SIM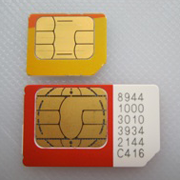 Since your phone won't be married to a specific carrier, your unlocked iPhone 4 doesn't come with a micro-SIM — the little card that lets your phone communicate over a cellular network. Apple also says iPad 3G micro-SIMs are not compatible with the iPhone 4.
Carriers
Right now, users in the United States with an unlocked iPhone 4 can choose between AT&T and T-Mobile. The downside is that only AT&T can support the iPhone 4's 3G connection. If you choose T-Mobile, you will be stuck on the slower Edge network. If you decide to go with T-Mobile anyway, don't get too comfortable since AT&T is trying to convince regulators to let it acquire T-Mobile. Basically, if your motivation in buying an unlocked iPhone 4 is to escape AT&T, you're chances of success aren't very good. Unless, of course, you're willing to go with a regional GSM carrier, if that option is available in your area. Otherwise, your best course of action for escaping AT&T is going with a carrier locked CDMA-based iPhone 4 with Verizon.
The plans
AT&T's prepaid plans offer an unlimited talk & text plan for smartphones at $2 per day. You can then add a prepaid data package of 10 MB ($5), 100MB ($15) or 200MB ($25). So the most expensive prepaid package from AT&T will cost you about $85 per month, assuming you don't use more than 200MB of data in a 30-day period. Of course, the trick is that your iPhone 4 requires a microSIM, and it's not clear whether AT&T will sell you a prepaid microSIM for the iPhone 4. Your other option is to try to cut down a regular-sized SIM card to microSIM specifications, but you'll need to be careful not to ruin the metal contacts that allow the SIM to function.
T-Mobile sells an unlimited talk and text plan with Internet access for $70, but the company does not sell microSIM cards. Nevertheless, a customer representative I spoke with said customer service agents in T-Mobile stores can cut down a regular size SIM card to microSIM size for you. A T-Mobile SIM card for the iPhone 4 will set you back about $20.
International travel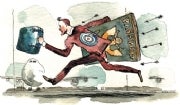 Traveling to foreign countries is where the advantage of having a carrier-unlocked iPhone 4 really shines. All you have to do when you land at your destination is pick-up a micro-SIM card from a local carrier, load it up with some prepaid minutes and you are good to go.
Unlocked doesn't mean jailbroken
Your phone may be carrier free, but it is still tied to Apple and only able to purchase third-party apps and receive software updates via iTunes (or iCloud once iOS 5 comes out). If you are interested in using apps from unofficial app stores such as Cydia you will still have to use the software jailbreaking tools widely available online.
Connect with Ian Paul ( @ianpaul ) and Today@PCWorld on Twitter for the latest tech news and analysis.