Samsung's Series 5 Chromebooks are getting high marks for sporting attractive displays and snappy response times, but those attributes come at a cost for Samsung, about $332.12 to be exact. Add in Samsung's manufacturing cost of $12.20 and the cost goes up to $334.32. That estimated bill of manufacture comes courtesy of the teardown analysts at IHS iSuppli.
The company ripped apart Samsung's Chrome OS-based netbook to see what made this notebook tick. For its analysis, iSuppli looked at Samsung's Wi-Fi + 3G Chromebook, which costs $500. Chromebook Series 5 notebooks start shipping on June 15.
Motherboard and LCD top costs
Leading the Chromebook's price tag is the device's $86.37 motherboard that includes an Intel Atom N570 1.66 GHz processor, 2GB DDR 3 RAM and other components. The Chromebook's 12.1-inch LCD with 1280-by-800 sets Samsung back another $58, followed by the notebook's $48 battery and the $42 3G module, according to iSuppli.
The cheapest part — not including peripherals such as the camera, Wi-Fi radio and power adapter — is the notebook's 16GB SSD storage, priced at $28.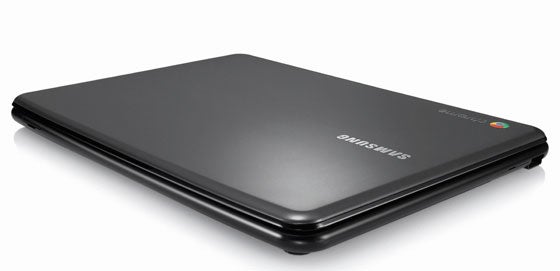 Expensive or not?
Samsung's Chromebooks may sound like they're expensive to make, but they don't even come close to the cost for Apple's lowest-priced MacBook Air. Analysts at Gleacher & Co. pegged Apple's manufacturing costs for the 11.6-inch MacBook Air at $718, according to Computerworld. Of course, Apple also charges a higher retail price for its computers, allowing it to spend more on hardware costs when necessary.
Google deal
It's not clear what Samsung may have to pay to Google as part of the deal to put a sanctioned version of Chrome OS on its notebooks. Google cuts business deals with Android manufacturers to put the Google logo and apps on their devices, and the search giant likely does something similar with Chrome OS. Regardless, the deal with Google was likely lower than what Microsoft charges to license Windows. Samsung was also able to save money on things like onboard storage since Chromebooks are largely Web-centric. "The lower overhead in hardware allowed Samsung more leeway [to spend] on things that people will notice, like a bigger screen and a bigger battery," iSuppli analyst Wayne Lam told AllThingsD.
No RAM upgrade
If you are thinking about picking up a Samsung Chromebook, don't plan on upgrading the RAM. Lam said Samsung soldered the memory onto the motherboard.
Connect with Ian Paul ( @ianpaul ) and Today@PCWorld on Twitter for the latest tech news and analysis.