At a Glance
Expert's Rating
Pros
Good battery life, superior audio
Handsome, full-featured, reasonably priced
Cons
No 5GHz Wi-Fi, some ergonomic keyboard issues
Mediocre performance; heavy for its screen size
Our Verdict
Good looks, superior audio,excellent battery life, and a modest price make the K53E-B1 a good deal for everyday tasks if portability and speed aren't prime concerns.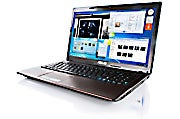 With its 15.6-inch display, dual-core Intel processor, and integrated graphics, the Asus K53E falls shy of our power and size criteria for inclusion in the desktop replacement category. But as all-purpose notebooks go, it's definitely on the beefy side, weighing in at 5.8 pounds and outfitted with a full-size keyboard and a dedicated numeric keypad. Although the K53E might not be a great companion for a daily commute and its performance is only so-so, its superior audio, good battery life, and modest price tag ($750 as of 6/14/2011) make it a model worth considering by those on a budget.
Equipped with a 2.3GHz Intel Core i5-2410M CPU (a lower-end current-generation notebook processor); 6GB of DDR3 1333MHz DRAM; Intel high-definition integrated graphics; a 640GB, 5400-rpm hard drive; and the 64-bit version of Windows 7 Home Premium, the K53E-B1 earned a fair-to-middling PC WorldBench score of 112. By way of comparison, its chart-topping sibling (as of May 31), the Asus N53SV, scored 126–but with a Core i7-based configuration that costs $1000. The K53E's gaming scores were even worse, running less than half the frames per second of the N53SV at the same screen resolutions.
The K53E's battery life, on the other hand, is far superior: It ran for nearly 6 hours, compared with well under 4 hours for the N53SV. But again, in a notebook that's not particularly portable, battery life may not be a prime concern.
Asus tout's the K53 series' good looks, and the dark brushed-aluminum exterior and shiny dark brown interior surfaces do look pretty classy. The 1366-by-768-resolution widescreen LED is bright, crisp and generally attractive, too. Other selling points include a two-sided motherboard designed to keep the interior surfaces cool (by placing hotter components so they face the notebook's underside) and an Elan multitouch-enabled touchpad that's supposed to distinguish between palm and fingertip touches. (I'm an Elan fan–I find their touchpads to be generally more responsive and precise than those of some of their competitors.)
You get a fairly typical selection of ports (three USB 2.0 ones, HDMI and VGA out, ethernet, an SD and Memory Stick card reader, and headphone and microphone jacks), a super-multi-DVD drive, and an 0.3-megapixel Webcam that captured pretty decent images you can tweak all sorts of ways with the included Asus Lifeframe app. Asus's software bundle also includes a limited version of Syncables, a desktop sync app that you can use for free with one other PC, and Asus Sonic Focus for improved audio quality on the built-in Altec Lansing speakers, which do deliver sound a cut above what you typically get in a notebook at this price point.
A couple of disappointments: The 802.11n Wi-Fi supports only 2.4GHz networks, which are subject to overcrowding; a dual-band (2.4GHz and 5GHz) adapter would have been nice. And while the island-style chiclet keyboard keys are large and offer plenty of travel, you don't get much additional separation between the numeric keypad keys and the main keyboard array, which can make finding some controls awkward (a problem noted in our review of the N53SV).
I wouldn't recommend the Asus K53E-B1 to frequent fliers, gamers, or anyone requiring lots of raw computing power. But if money is tight and you need a workhorse for everyday computing, watching DVDs, or listening to music, this might be a good candidate.