A juror and an defendant who was acquitted in a drug case have been found guilty of contempt of court after they contacted each other via Facebook, yet another example of people who share too much over the world's largest social network. The Guardian reports this may be the UK's first prosecution for contempt of court involving the Internet.
The juror, 40-year-old Joanna Fraill, admitted that she contacted the defendant, 34-year-old Jamie Sewart, through Facebook. Fraill reportedly contacted Sewart because she felt "empathetic" and saw "considerable parallels" between their lives.
Sewart denied the charges but has been found guilty. Sewart admitted to knowing Fraill was a juror when she added her as a friend on Facebook. Sewart also reportedly asked Fraill for details on the jury's deliberations, before a decision had been reached.
"what's happenin with the other charge??" Sewart reportedly asked Fraill over a Facebook chat on Aug. 3. [Read a full transcript here.]
Fraill asked Sewart to clarify her question, and then responded "cant get anyone to go either no one budging pleeeeese don't say anything cause Jamie they could all miss trial and I will get 4cked to0."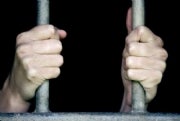 Sewart and several others were on trial in Manchester for their alleged relationship with a drug gang. The trial Sewart and Fraill discussed was one of a series of four trials estimated to have cost nearly $10 million over 10 weeks. Though Sewart had already been acquitted at the time of the contact, other defendants were still on trial, causing the case to collapse. One of the convicted defendants, Gary Knox, is requesting his verdict be overturned on the basis of jury misconduct.
Fraill and Sewart each face up to two years in prison, and the court will announce both women's sentences Thursday.
This, sadly, isn't the first time people have shared too much about a trial on Facebook, but it may be the first time people end up in jail because they can't unplug.
Follow Sarah on Twitter (@geeklil) or on Facebook