Lady Gaga is the most tech-savvy pop star ever, and now her manager, Troy Carter, is an investor in a new URL shortening and redirection service. Both Lady Gaga, naturally, and rapper 50 Cent are early adopters of the service.
Bre.ad claims to solve the problem of "noise" — the difficulty of making a tweet stand out from the 150 million that are issued every day.
It does this by providing a link-shortening and redirection service that in its simplest form works identically to bit.ly and Twitter's own t.co. A typical Bre.ad link looks like http://bre.ad/03qbgh.
However, users can also "toast" their links to make them "more meaningful," according to the people behind Bre.ad.
Toasts are 720-by-300-pixel advertisements, accompanied by a text message, that appear for five seconds before users are automatically sent on to their destination.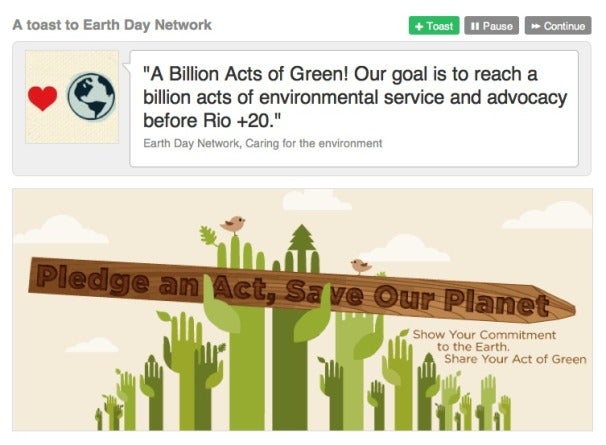 Those viewing the toast can click a Toast button on the page, which is akin to Facebook's "Like" feature. Once a user has toasted an ad, they're shown the Twitter feeds of others who have toasted it.
In other words, Bre.ad is an attempt to monetize URL shortening, and has a patina of social networking added in. It's clever and simple, and one has to wonder why Twitter hasn't already thought of it. Bre.ad says it's in the process of patenting the service.
That said, there are obvious questions about how effective it can be.
Although users can click a Continue link to skip straight to the redirected site, five seconds is a long time to wait for a site to appear. Research has shown that surfers are unwilling to wait more than four seconds before a website appears (PDF link), although that data comes from 2006–faster broadband speeds have likely raised expectations that sites should appear even faster nowadays.
Despite what users might feel, however, celebrities and corporations will no doubt love the service because it commercializes redirection. Alongside Lady Gaga, rap star 50 Cent and Pepsi have already signed up to Bre.ad, which left beta June 14.
The service is presently free of charge to use, both for simple redirections and for the creation of toasts.
I saw mixed results in my tests. Ironically, five seconds was often too brief a time to respond to a toast. Sometimes the ad didn't finish loading before I was sent on to my destination, while other times I moved to click the Toast link only to find the page disappear. I suspect in the near future Bre.ad might do away entirely with the five-second pause, letting users manually advance by clicking the Continue button when they're ready.
Using the service in its basic redirection form is simply a matter of preceding the link with http://bre.ad/. To create a toast to direct to http://keirthomas.com, for example, I'd type http://bre.ad/keirthomas.com. In this case, users are instantly sent on to the destination without seeing an ad.
To create a toast, users need to click on the My Toasts link on the Bre.ad website (registration is first necessary but also free of charge). Here they can add their own image and message. Bre.ad says its developers are working on an application programmer interface (API) that should make it possible for browser extensions and other software to use the service.
It's also possible to click the Explore link on the Bre.ad site to see what others are toasting.
There's little doubt Bre.ad is a smart idea. Those who follow the Twitter feeds of celebrities and popular brands are going to be seeing a lot more of it.