Lady Gaga and 50 Cent are early users and supporters of a new link-shortening-and-sharing service that could take the online world by storm. There's just one problem–it's a totally terrible idea.
Here's a video from the company that explains the service:
Bre.ad bills itself as "a link shortener that promotes your personal brands and interests" by forcing your Twitter or Facebook followers to look at your "personal billboard," presumably filled with such things, for five seconds whenever they click on a link that you've shared. Of course, eventually Bre.ad will sell space on your "personal" billboard to companies like Pepsi, which is backing the launch. Note the key word after the period in the company's name: Ad.
So essentially what Bre.ad does is enter an already bloated link-shortener market with a service that, unlike the competition, forces you to register and log in and then serves up ads to your friends. Bre.ad calls its sharing feature a "toast," which is ironic, because that's exactly what the Bre.ad service is about to be.
Bre.ad says the 5-second marketing "toasts" are designed to be "quick, personal and unintrusive," but the very concept doesn't really honor any of those things.
Five seconds is not quick in Web time. Even the second it takes for me to click the "skip" icon in the corner of the toast to blast past it (kudos for at least knowing enough to add one smart option to a dumb idea) is not quick. Forcing me to look at other, likely unrelated links from my friends is also not personal just because I know the person–it's repetitive. I'm already friends with them on Facebook and Twitter, so Bre.ad isn't showing me anything I don't already have access to. And unintrusive? Please. Aside from a "toast" being intrusive by its very nature, let's have a quick look at Bre.ad's privacy policy, shall we?
"Bread may allow third-party ad serving companies, including ad networks, to display advertisements on the Site. Ad serving companies may place a persistent cookie on your computer in order to recognize your computer each time they display an online advertisement to you, and as such, they may be able to compile information over time about whether you reviewed or clicked on advertisements they display. These companies may use this information to display targeted advertisements and may associate this information with your subsequent visits, purchases or other activities on participating advertisers' Sites."
Not the greatest nod to privacy since sliced bread, hey?
And that, ladies and gentlemen is what this is really all about–building a new, improved, and irritating space to shove more ads in your face.
More Privacy Complaints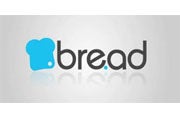 But while we're on the topic of privacy, I have another bone to pick with Bre.ad. I signed up and connected my Facebook account and found that I was already set up to follow one of my Facebook friends, who apparently is a very early adopter of Bre.ad, or perhaps just a huge Gaga fan. The service didn't ask me if I wanted to port over any of my Twitter or Facebook followers, it just did it. Now that may seem like no big deal, but I should have the option to easily control who I follow on each social network. For example, if I want to use Bre.ad to share nothing but links of bad reviews for Bre.ad, I might not want the CEO automatically following me.
As offensive as I find this loaf of stale sourdough to be, there is one slice of Bre.ad that I really like. When you find a link you want to shorten and share, you simply type bre.ad/ in front of the URL. That's a feature that actually makes life easier, unlike the rest of this half-baked idea.