Google on Tuesday introduced three new search features that make it clear mobile technologies are leading the way in new developments from the search giant.
The new Voice Search feature in its Chrome browser, for instance, originated in the mobile arena and was designed to allow users to speak, rather than type, their queries.
"With Voice Search, you don't have to type on a tiny touchscreen," wrote Google Fellow Amit Singhal on a company blog. "You can just speak your query and the answer is on the way."
Search by Image
Search by Image, similarly, brings to the desktop another technology originated in mobile: searching via computer vision.
"Google Goggles has enabled you to search by snapping a photo on your mobile phone since 2009, and today we're introducing Search by Image on desktop," Singhal wrote.
With the new feature, users can upload any picture or plug in an image URL from the Web and ask Google to figure out what it is. New extensions to the Chrome and Firefox browsers will also enable users to search any image on the Web simply by right-clicking.
The video below offers a sneak peek at the new Search by Image feature, which could be a boon for business research as well.
Instant Pages
Finally, the third search feature Google introduced on Tuesday was Instant Pages, which aims to shave seconds off the search process by loading top-ranked websites even before the user selects them.
"Instant Pages will prerender results when we're confident you're going to click them," Singhal explained. "The good news is that we've been working for years to develop our relevance technology, and we can fairly accurately predict when to prerender."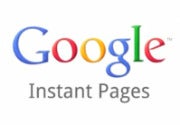 These are all cool new technologies, and I'm looking forward to testing them. What I think is even more interesting, though, is that two out of three of them came from the mobile side.
Mobile Now the Leader
Much the way Ubuntu Linux's new Unity interface borrows from the mobile paradigm–as do Apple's Mac OS X Lion and numerous other technologies–mobile is now driving search development on the desktop as well.
Mobile is now where users spend most of their time. The company that offers up the best of such technologies across platforms may well be the one that wins.