At a Glance
Expert's Rating
Pros
Useful hardware buttons
Good audio
Sturdy yet handsome case
Excellent battery life
Cons
Smallish hard drive in this configuration
No webcam
A bit pricey
Our Verdict
The business-oriented Dell Latitude E5420 offers standout battery life in a sturdy package plus lots of usability features, but it doesn't come cheap.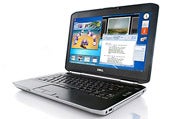 When Dell means business, it doesn't kid around. The Dell Latitude E5420 is one of the toughest-looking corporate laptops I've seen that isn't specifically designated as ruggedized. From its dark grey, brushed anodized aluminum case to its magnesium-based insides and sturdy-looking hinges and lock, everything about it screams "hard-core business tool."
But with a price tag of $1590 (as of June 15, 2011) for a 14-inch screen and an Intel Core i5-based configuration that didn't even have an integrated webcam, our 5.6-pound test unit seemed designed for enterprises willing to pay a premium for durability and excellent battery life–the E5420's best features–over portability and video-chat support.
Performance is good: Equipped with an Intel Core i5-2520M running at 2.5GHz, 4GHz of DDR3 RAM, Intel HD integrated graphics, and the 64-bit version of Windows 7 Professional, our test model earned a respectable score of 123 on WorldBench 6. That's in the ballpark for the top-ranked notebooks on our all-purpose laptops chart–and the E5420's gaming scores (compared with other laptops using integrated graphics) were pretty good too–but many of those competitors cost less.
What really sets the E5420 apart is its 9.5-hour battery life, which is two to three times greater than that of the chart-toppers. If you're going places where power outlets aren't always available, the E5420 would certainly be an appealing option for its longevity alone. Note, however, that our test unit came with the top-of-the-line, nine-cell, 97-watt-hour lithium ion battery, which sticks out on the back edge; you can opt to save money and maybe lighten the load a bit by configuring the E5420 with a weaker battery, which would of course reduce battery life. I noticed a hotspot on the left underside of the E5420 after a few hours' use, but the keyboard and top surfaces stayed cool and comfortable.
The E5420 has several other features that should endear it to corporate IT buyers and their constituents. It has both a joystick and a touchpad (no need to fight that ergonomic war with a large user base); although neither input device is the best I've been, both are certainly adequate. The superb keyboard has nicely sculpted keys that are a joy to use; its backlight comes on the moment you touch a key, and goes dark after a period of nonuse to save battery life.
Small, silvery hardware audio-control buttons next to the keyboard let you quickly adjust volume or mute the sound entirely. Other welcome amenities include an external on-off hardware button for Wi-Fi (both the 2.4GHz and 5GHz flavors of 802.11n, yay!); Smart Card and SD Card slots; and even a FireWire port, presumably to support legacy storage devices since FireWire has fallen out of favor in the consumer market.
The 14-inch widescreen LED-backlit display is bright and crisp, with an unusually high resolution–1600 by 900–for its size. It's inset in a fairly wide bezel for added damage protection. The E5420's built-in speakers produce surprisingly robust audio, and although our test unit lacked a webcam, you can opt to configure the machine with one. However, while the laptop does have a built-in microphone, it offers no option to plug in separate headphone and microphone jacks–you get only a combined audio-mic port.
Our E5420 came with a somewhat small 250GB, 7200-rpm hard drive; other options include larger and encrypted drives, and smaller solid-state drives. You get the usual three USB 2.0 ports, one of which is a combined USB-eSATA port. The laptop also provides HDMI and VGA ports, gigabit ethernet, and a DVD burner.
Dell's software bundle for its business customers is minimal: You get the starter edition of Roxio Creator and CyberLink's PowerDVD for use with the DVD burner, as well as a couple of network-connection utilities (including the NetWaiting dial-up modem utility, which seems odd since this configuration had no dial-up modem) and Dell's backup, recovery, and data-protection tools.