Online theft is a fact of life nowadays, but yesterday a BitCoin user woke to find his haul of virtual currency had been plundered.
A user with the handle allinvain found 25,000 BitCoins had been stolen. If the thief were to cash out, he or she would net just about $500,000 at current BitCoin-U.S. dollar exchange rates.
Assuming the story isn't fabricated, allinvain's story could represent the world's first heist of virtual money. It's almost certainly the biggest.
BitCoin is an entirely virtual currency traded via free peer-to-peer software installed on each user's computer. Like most major worldwide money systems, BitCoin is a form of fiat currency, meaning it only has value because people believe it has purchasing power.
Users generate new BitCoins on their computers by performing calculations, although this takes a long time. It's also possible to buy and sell BitCoins for standard currency at various exchange sites and even use BitCoins to pay for some goods and services.
It's not clear if allinvain earned his BitCoins or whether he purchased them. The former seems more likely: In one of his postings at the Bitcoin.org forums, allinvain claims to be an early adopter of BitCoin, and says he was saving up to launch a BitCoin-based eBay clone. Despite the appropriately ironic username, allinvain appears to have a trusted track record within the BitCoin community.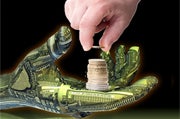 Although BitCoins are cryptographically protected and traded, the weak point is the user's computer where the wallet.dat file is stored. This stores the cryptographic keys that unlocks the entire BitCoin account and provides the ability to transfer funds. It's up to the user to protect this file and it appears somebody hacked into allinvain's home PC to access the unencrypted file.
Frustratingly, the nature of the BitCoin network means allinvain knows the thief's BitCoin ID, and is able to track him or her as they launder the money through various other accounts. However, the decentralized nature of the BitCoin network is designed to make tracing individuals in the real world impossible. Allinvain can do nothing more than hope somebody recognizes the thief's BitCoin ID, or spots that they're receiving some of allinvain's stolen BitCoins.
Because of the anonymity inherent in BitCoin trading, BitCoins are reportedly used to fund drug trafficking, among other things, and recently attracted the attention of two U.S. senators, who want to shut down the network.