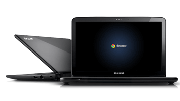 If Google's concept of computer in a browser captivated your imagination back in 2009 when it was announced, you'd be pleased to know you can finally buy a Chromebook with Chrome OS right now. Amazon and Best Buy have begun taking pre-orders for the ChromeOS-toting laptops, starting at $430.
Your choice of Chromebooks, lightweight laptops designed to get you online in seconds and have long-lasting battery life, is somehow limited. Acer has two models on sale, starting as low as $350 for a Wi-Fi-only model, while Samsung has two models on sale too, starting at $430. But which Chromebook is right for you?
Not sure about how Chrome OS works? Check out PCWorld's Chromebooks: A Prospective Buyer's Guide and a visual tour of the Chromebooks. Also see PCWorld's review of the Samsung Chromebook (2.5/5).
Choosing a Chromebook is quite straightforward at the moment, given the limited choice available (Google said more manufacturers will release models later this year). I've put the two Chromebooks specs' head to head and see where the differences lie ( click to view comparison chart ).
Both the Acer AC700 and Samsung's Series 5 are light (3.3 pounds), thin (1-inch for the Acer, 0.8-inch for Samsung), and feature 2GB of RAM, while running on an Intel 1.66GHz Dual Core processor. They both run on speedy 16GB flash storage, and have webcams embedded for video chat. You also get an SD card slot on either Chromebooks to transfer photos or files, along with two USB ports.
There are a few differences between Acer and Samsung's first Chromebooks. The Acer model has an 11.6-inch screen, while Samsung's Series 5 laptops have 12.1-inches screens, slightly roomier. Although Acer's screens are smaller, they do pack higher pixel density than Samsung's larger screens, meaning you actually get a bit more space to work on the AC700.
Acer's Chromebook also has an HDMI port for video out, while Samsung put only VGA via an optional dongle for this purpose. Samsung however, claims more battery life out of its laptops, at 8.5 hours versus Acer's 6 hours. If you like your Chromebook in a different color other than black, Samsung also has two color versions available (silver and white).
Samsung doesn't beat Acer on price though. Acer's entry model starts at $350 (Wi-Fi-only), up to $430 for the 3G model. Samsung's sleeker design lines and materials pile on the bucks, starting at $430 for Wi-Fi model, while the 3G model sells at $500. As previously announced, Verizon bundles 100MB of free 3G traffic per month with each Chromebook.